Business Celebrates with Paid Vacations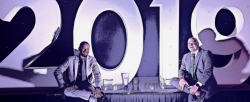 Charlotte, NC, October 31, 2019 --(
PR.com
)-- In celebration of a successful year of business, some of the New Age Marketing team jet sets to Cancun, Mexico. During their three-day retreat they attended an award ceremony and enjoyed fine dining as well as relaxation time on the breathtaking beaches of the Cancun Coast. Interests were sparked once the word was out about the end-of-year getaway, so the New Age Marketing operations directors were contacted in an effort to learn more about their prosperous year, the award ceremony, and why the directors at New Age believe in rewarding their top employees with an all inclusive vacation.
Upon arriving at the five-star, Cancun resort, the sales and marketing group from Charlotte, NC made their way to a ceremony co-hosted by New Age Marketing's clientele. It was there that New Age's Management Team was recognized as "Best in The Industry" for the 2018 business year, receiving top awards in both Achievements and Operations Management. This award was voted on and presented by leaders and other personnel in the promotional marketing industry.
"We're incredibly humbled to receive these in-industry awards. 2019 was a monumental year of growth for our company as well as its staff. While we are thrilled to receive this acknowledgment, we are even more excited about what we know is on the horizon in 2020."
- Director of Operations at New Age, Jared Poniatowski
The leadership team at New Age was anxious to get back to Charlotte to implement and share everything they learned. The skills learned at the conference are not only great to utilize in the professional business world, but are also amazing tools to have in everyday scenarios. It is clear to see New Age is focused and motivated to take their team to the next level in the Charlotte market and look forward to watching their staff grow throughout the year.
Contact
New Age Marketing Inc.
Jasmine Pour
704-449-7313
newagemarketinginc.net

Contact