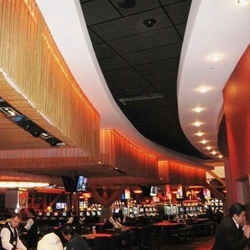 Irwindale, CA, May 28, 2008 --(
PR.com
)-- The Starlight Casino located in the Greater Vancouver area is a brand new $110-million gaming and entertainment facility completed last December. The 100,000-square-foot facility has 850 slot machines and 45 gaming tables plus restaurants and bars, drawing as many as 15,000 customers a day. For the casino to provide a theme of warm and inviting atmosphere for its customers, the interior designer worked with the solid-state lighting manufacturer Act One to come up with a distinct lighting design that fulfilled the need of the casino.
The alluring lighting effect is created by using Act One's LED lighting tubes mounted on the ceiling to disperse downward light evenly over the mesh screen curtains. With four lighted screens forming a fan-shape section and a total of 9 sections spread over the casino, this interior lighting design provides the kind of visual attraction the casino wanted. As said by the casino Marketing Director Maury Kask: "I kind of describe it as a very powerful, sexy interior design. ... (The lighting) is a very distinct element. It's a really unique design feature."
The solid-state lighting tubes from Act One come in two types: the 3-foot and 4-foot models. By proper combinations, they make up all the nine fan-shape sections in different sizes. The total length of the tubes used amounts to about 700 feet. A single digital controller is used to control all the 200 lighting tubes. The lighting patterns are designed with a computer and the finished design files can be downloaded to the digital controller easily with a compact flash card.
About Act One:
Act One Communications, Inc. is an Energy Star certified manufacturer specialized in outdoor LED lighting, large LED video displays, and niche LED system applications. It provides products and services to clients in the North, Central and South Americas. For more information, visit www.actone1.com.
###