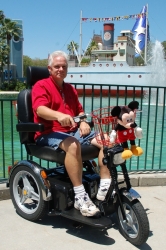 Orlando, FL, June 13, 2008 --(
PR.com
)--
Scooter Vacations
, a premier Orlando Scooter Rental company headquartered in Orlando, Florida, announces the newest addition to its mobility scooter, electronic convenience vehicle (ECV) rental fleet, the Dream. The Dream is the company's first model specifically selected for Disney Scooter Rental or Universal Scooter Rental visitors staying in hotels on-property at Walt Disney World or Universal Studios Florida and plan to use resort-provided bus, boat or monorail transportation to travel between hotels, associated theme parks and other on-property venues during their stay. You can view a video of the Dream in action at the company's website at
www.ScootOrlando.com
.
"Our four current models have proved a huge success; they're an especially big hit with those guests staying off-property that need a scooter they can fold up or easily disassemble and put in their car trunk," says Scooter Vacations General Manager Brian Andrew. "Now with the Dream, guests staying on-property have an even more enjoyable and smoother-riding alternative to the typical medical-type mobility scooter."
The Dream—identified by customers as "the crème-de-la-crème of scooters"—"features a fun, chopper-style motorcycle look, including chrome accents and the largest wheels available on any mobility scooter, providing the smoothest ride possible. It also includes front and back baskets and the largest, most comfortable mobility scooter seat, which resembles a luxury car seat. This "dream" seat features an adjustable headrest, moves forward and back, and reclines and swivels for easy on and off maneuvering.
The Dream accommodates a weight capacity of up to 500 pounds; with its adjustable seat and slick styling, anyone, large or small, can enjoy the look, luxury, fun and ride of the Dream. It is welcome in amusement parks and all public venues as it adheres to, and meets the official FDA-approved government standard rating for, an electronic convenience vehicle.
In keeping with Scooter Vacations commitment to provide the largest, most versatile selection of sporty, state-of-the-art rental scooter models, the company will rent on-property guests the Dream for only $40 a day, taking Orlando scooter rental options to a whole new level.
About Scooter Vacations
Scooter Vacations, Orlando's premier scooter rental company for Orlando Scooter Rental, Disney Scooter Rental, Sea World Scooter Rental and Universal Scooter Rental offers a range of luxurious mobility scooters to vacationers visiting the Orlando area and embarking on cruises from Port Canaveral. Users—including the mobility-impaired, families looking for a "survival utility vehicle" to make their theme park vacations more effortless and individuals interested in more quickly and enjoyably navigating destinations by personal transporter—choose Scooter Vacations for the perfect scooter touring experience. The only sporty Electronic Convenience Vehicle (ECV) rental company to provide the most technologically advanced scooters, it offers four models that quickly and easily fold-up or disassemble for storage or transportation in a compact car or taxi trunk and can support a rider weight capacity of up to 450 lbs, as well as a specially designed, large wheel and luxury seat model for on-property guests that accommodates up to 500 lbs. Scooter Vacations offers mobility scooter rentals beginning at only $25 per day. Visit them on-line to make reservations or learn more about the models offered at www.ScootOrlando.com or contact them by telephone at 1 (407) 705-3705 or in the UK at 02071 009289.
###