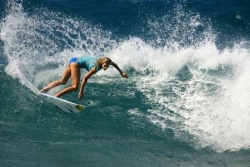 Chinandega, Nicaragua, June 13, 2008 --(
PR.com
)-- Perfect waves groomed by all day offshores are breaking right now in warm water, and they're only a short flight away. With fewer crowds, a higher concentration of quality breaks within a short distance, and very affordable ocean view property still available, it's easy to see why Nicaragua is being dubbed "the new Costa Rica." But, first you need to see it for yourself.
Century 21 Gold Coast Realty is offering a unique opportunity to do just that. The Surf & Turf tour will combine comprehensive information about Nicaragua's burgeoning real estate market with the opportunity to experience the country's best surf with professional surfer and
Nicaraguan land
owner Holly Beck.
"As a pro surfer, I've had the opportunity to travel all over the world. When I consider all the factors; proximity to home, affordability, friendly people, and of course quality surf, Nicaragua scores highest, and is the place I've chosen to build my future home."
Beck has teamed up with agents from Century 21 Gold Coast Realty to organize the Surf & Turf tour as a way of introducing other surfers to what many claim to be the next great real estate investment opportunity.
Kristin Wilson, general manager of the C21's New Marina office says the trip with Holly Beck will not only be a great surfing experience, but will also provide valuable information for serious real estate investors.
"Many individuals spend years of frustration trying to decipher the Nicaraguan market," says Wilson, "only to end up with a bunch of conflicting information from hundreds of websites." The value of the Surf & Turf trip with Holly Beck will be the chance to see the very best properties in a concentrated period of time as well as benefiting from the experience of knowing exactly which surf spot will be best at any given time," she adds.
The trip begins in Managua on August 23, 2008 and participants on the tour will spend 7 days surfing some of Nicaragua's most famous breaks and even some further off the beaten path. Accommodations along the way will highlight available properties in Nicaragua's most popular regions. Transportation will be provided, as will some meals and other side activities.
"Our goal is to provide a complete picture of the
Nicaraguan real estate
market in a 7-day period, while giving out guests and incredible surfing experience," says Wilson. Cost for the trip is $2,500, excluding airfare. Guests who purchase property from C21 as a result of the trip will be eligible to have the cost of their trip refunded upon closing. More information can be obtained by contacting Kristin Wilson at kristin@c21beachfront.com or by phoning her in Nicaragua at (760) 536-8338.
###