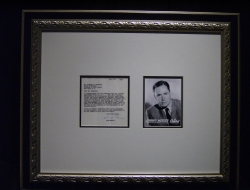 Savannah, GA, August 05, 2008 --(
PR.com
)-- "Sobbin Women, (Seven Brides for Seven Brothers)" and "Spring Reunion" are only a few of the items from the four time Academy Award winner and Songwriter Hall of Famer. In addition to the collection of movie contracts, C. Savannah also has numerous inscribed photos and autographs, including a circa 1940's cigarette advertisement inscribed "Best Chesterfield Wishes, Johnny Mercer".
Co-founder of Capitol Records, Johnny Mercer is one of American's best-known lyricists and composers of popular music. It is almost impossible to get through an entire day without hearing at least one Johnny Mercer song on radio or TV.
C. Savannah specializes in historic autographs; period antiques and eclectic memorabilia including a collection of Gone with the Wind items and other notables as Jefferson Davis, HRH Princess Diana, Harry Houdini, Andy Warhol and a variety of others. All autographs come with a lifetime guarantee with the Certificate of Authenticity.
C. Savannah is the premier historic gallery in the Southeast and an outstanding leader in presenting historical documents and autographs as art. C. Savannah offers its collection to the public Wednesday through Saturday from 11am and Sunday beginning at noon.
To learn more about C. Savannah, visit the historic gallery online at www.Csavannah.com . To inquire about Johnny Mercer's signed contracts or photos; you may call them directly at (912) 233-3667. The e-mail address is info@Csavannah.com
###