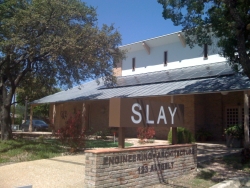 San Antonio, TX, August 09, 2008 --(
PR.com
)-- Commercial solar has arrived in Balcones Heights. On August 5, 2008, San Antonio's CPS Energy flipped the switch on for a commercial building's array of solar panels installed by Novastar Energy. The panels were placed at 123 Altgelt Avenue, up Fredericksburg Road in Balcones Heights. The building, formerly the Balcones Heights Municipal Building, is owned by Mr. Michael Slay and Mrs. Madeline Slay, housing their respective companies Slay Engineering Company, Inc., and Madeline Anz Slay Architecture, PLLC.
On site for the activation were a half-dozen CPS Energy representatives receiving tips and guidance for commercial-grade solar generation. The CPS teams were led by Matt Haecker of Customer Solutions and Delivery, Mike Ward of Electrical Metering & Service Standards, and Mike Wheiles of Northwest Service District. Financially, CPS assisted the installation by giving a ten thousand dollars as a customer rebate. The investment in the panels will also generate thousands in tax savings for the Slays through the Energy Policy Act of 2005.
The solar array faces southeast above the building. The system has a nameplate capacity of 4kW. The panels were purchased through Aaron Geer of Novastar Energy. Novastar's managing partner Dustin Aubrey oversaw the installation and running of conduits, with consultation provided by G.W. Anz Construction Company. Josh Harris was Project Manager for Novastar, as was Adam Soorholtz for Slay.
All parties involved are very pleased that this supports the smart urban renewal program that is under development for the Balcones Heights municipality. Balcones Heights aims to re-engineer itself through mobility and energy enhancements to meet changing lifestyle needs of the 21st century.
###