Stick-e® Yoga Accessories Rock the Health and Fitness Industry
On the heals of the successful launch of Yoga Stick-e Socks...for that Barefoot Feeling, Stick-e Brands announces an expanded product line of new Stick-e accessories for Yoga and Pilates. The new line was received with rave reviews, media attention and orders from Sporting Goods chains buyers at the recent Health and Fitness Business Expo. Stick-e Brands will be establishing itself as a household name this Fall as it graces the covers and pages of some of the biggest catalogs.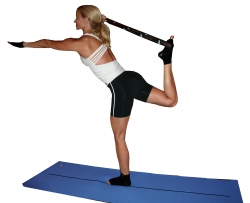 Chicago, IL, August 11, 2008 --(
PR.com
)-- Stick-e® Brands, aka Libby's Luxuries LLC, maker of Yoga Stick-e® Socks…for that barefoot feeling! introduced an innovative new line of Yoga accessories at the Health and Fitness Business Expo in Denver, July 17 and 18th in Denver, CO. The line was met with rave reviews, media interest, and orders from a wide variety of sporting goods buyers. Stick-e® Brands is rocking the sporting goods world with its fast launch of unique new products that not only solve slippery problems but offer versatility and look hot while doing it.
Stick-e® Brands' original product,
Yoga Stick-e
®Socks…for that barefoot feeling!, earned international acclaim from the sporting goods community when it was selected as a finalist in the ispo BrandNew competition and was featured at ispo Winter 'O8 in Munich. Stick-e® Brands secures its reputation as being an innovator with the following four new products.
The first new product builds on Yoga Stick-e® Socks' beneficial attributes for dance. It brings together two of the hottest trends in the fitness industry – dance and yoga. The Hot & Stick-e Hip Hop Yoga Workout DVD incorporates strength and stretching through Yoga in the warm up and cool down. Then it adds a hip hop dance routine in the middle for a cardio workout. The DVD provides a complete body workout with strength, stretching and fat burning in 30 minutes. Best of all, the hip hop dance moves can be taken to the dance floor.
After introducing Yoga Stick-e® Socks, Stick-e® Brands was besieged with requests for a similar product for hands. The Stick-e® Gloves provide all of the same benefits of the Stick-e® Socks. The exposed fingers, maintain the freedom of movement and tactile function required for Yoga and Pilates but sweaty hands will no longer be a problem. As Allison Mance of HelloBeautiful.com states, "I love yoga, but I also have the clammiest hands in the world. Gross. However, there's now a company called Stick-e® that makes gloves, socks, and yoga mats that stick to the ground so you aren't sliding all over the place while posing, and it's quite possibly one of the most clever yet simple inventions of the past few years!"
Not to be limited to just Yoga, the Yoga Stick-e® Towel…for a Clean Grip! is 18" x 24" and intended to be used to protect one's hands and face from shared mats and equipment. The Stick-e® Towel is made with viscose from Bamboo providing a super soft and highly absorbent towel. The towel has two smooth, non-slip stick-e® panels on the back to enable the towel to stay put when in a plank pose, or working out on weight benches or cardio machines. No more jumping off the spinning machine and picking up a towel that's fallen to the floor or putting your face where others' feet have been.
Uniqueness meets versatility in the Original Yoga Stick-e® mat. This mat is designed to have a detachable shoulder strap which attaches directly to the mat. The benefits of this design are that the strap is not only a shoulder strap but also enables the mat to hang easily in the shower or elsewhere for cleaning and/or air drying. This helps prevent bacteria and mildew from accumulating on mats that have been rolled up after a workout. Additionally, the strap can be used as an adjustable, non-slip, yoga exercise strap. Now one product takes care of 4 needs.
Stick-e® Brands will start establishing itself as a household name this Fall as its founding product, Yoga Stick-e® Socks, will grace the cover of catalogues including Solutions, Signals, Footsmart, Acacia, and Heritage to name a few. Walmart.com, the number three e-commerce retailer, has picked up the entire line. Additionally, all of the major sporting goods chains are currently reviewing the product line and/or placing orders. More announcements will be made shortly.
Stick-e® Brands line of Yoga accessories were designed to address the challenges associated with performing Yoga. Many people experience sweaty feet and hands that prevent them from holding a pose well or safely. People often share the same mats and equipment that are not cleaned after each use thus increasing the spread of fungus. Also people like to take their exercise regimen on the road and are looking for portability. Stick-e® Brands has the answer for all of these issues.
Yoga Stick-e® Socks are being distributed through Americal Corporation, a leading supplier of socks and hosiery to mass merchandisers.
Yoga Stick-e® Socks... for that Barefoot Feeling is the only patented sock with a smooth non slip stick-e bottom and a hole for every toe to extend through remaining exposed for that Barefoot Feeling! They provide a secure grip and protection from shared mats and equipment. They are perfect for Yoga, dance, Pilates, Karate, Pedicures and more.
Yoga Sticky Socks was patented in 2006 by Elizabeth Andrews founder of Libby's Luxuries LLC dba Stick-e® Brands.
###
Contact
Yoga Stick-e Socks
Libby Andrews
708-369-5775
www.yogastickysocks.com

Contact
Multimedia
This document has images and descriptions of the new innovative Yoga accessories from Stick-e Brands.