FUTEK Offers Load Cell with USB Output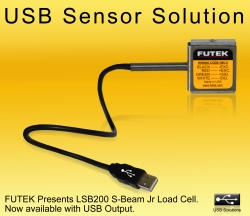 Irvine, CA, October 21, 2008 --(
PR.com
)--
FUTEK Advanced Sensor Technology, Inc.
is pleased to present its
LSB200 S-Beam Jr. Load Cell
with a brand new USB Digital Interface with 16 bits resolution. With this improvement, FUTEK has once again shown its innovation by becoming one of the first Sensor manufacturers to offer a USB type solution for Strain Gage Based Load Cells. FUTEK's USB Sensor Solution provides an easy "Plug & Play" with basic software making the System Integration even simpler.
The Miniature S Beam Load Cell has become one of the signature products in the FUTEK Load Cell Series. This model is widely used in Medical Bag Weighing Applications as well as automated feed back control and inline processing applications. The perfect mixture of size, accuracy and of course the assurance of an overload protection feature makes this one of their most sought after models. With a height of only 0.75", the LSB200 Miniature S Beam Load Cell is a great selection where tight environments or space is a challenge. The Standard LSB200 Miniature S Beam Load Cell model has female threads, comes in 2024 Aluminum construction (10 gram - 10 lb) or 17-4 Stainless Steel (25 lbs – 100lbs), and a 5 ft 29 AWG 4 conductor shielded silicone cable. It is also available in metric threads.
With all of its design features the Miniature S Beam Load Cell has a high accuracy with a Nonlinearity of ±0.1%, deflection of 0.005" nominal and an operating temperature of -60° F to 200° F. Similar to our entire Load Cell product line this model is manufactured in the U.S. and uses metal foil strain gauge technology.
Product Highlights:
Compact sized S-Beam Load Cell
Available in both Aluminum or Stainless Steel
USB output in 16 bits resolution
External Matched output option available
Built In Overload Protection
Metric Threads Available
In both Tension & Compression
Utilizes Metal Foil Strain Gauge Technology
Weight: 0.3 oz (aluminum) / 0.9 oz (Steel)
FUTEK also offers Donut Load Cells, Pancake Load Cells, and In Line Load Cells as additional solutions in the Load Cell line. In addition to their Load Cells, FUTEK carries over 400 products covering various Pressure Sensors, Torque Sensors, Force Sensors and related Instruments.
If these standards don't match your precise need, please contact them to see how they can customize this model for you. FUTEK Advanced Sensor Technology Inc. has an in house engineering and manufacturing team. Hence, we can provide full system solution (Load Cells, Torque Sensors, Force Sensors, Pressure Sensors, and Instruments) with standard product or design a completely new model to meet your custom needs. Their team can help you meet your requirements for any test stand, process control application or low cost OEM requirements no matter what industry you're in.
###
Contact
Futek Advanced Sensor Technology, Inc.
Kimberly Fajardo
949-465-0900
www.futek.com

Contact