Excalibur Technology Announces Franchise Offering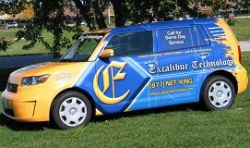 Barrington, IL, October 23, 2008 --(
PR.com
)-- Scott Cummings, founder and President of Excalibur Technology formally announced his plan to offer his business model as a franchise business to assist in becoming a nationally recognized brand.
"I'm excited to offer our proven business model to people looking to change their economic outlook during these difficult times. Our model allows someone to start servicing clients within the first week of opening without all of the other usual worries and with a team of professionals ready to help them every step along the way."
For the past 14 years, Excalibur Technology has been providing complete network, Internet and website services to businesses in northern IL. They offer a "one stop shopping" experience by providing every I.T. service a business would need. All work is performed by Excalibur employees – work is never outsourced. The Barrington office currently employees 26 staff members and bills approximately $4M a year in service.
Part of the wild success and growth of Excalibur Technology is due to their innovative use of technology to run not only their business, but their clients businesses as well. Their Avalon Business Management suite, which was developed by Excalibur staff is web based software that allows an Excalibur office to completely run from any Internet connection. Their Total Support Solution proactively monitors client networks 24x7x365 and help the Excalibur team fix many issues before they become a business stopping event.
A test pilot franchise office was opened May 2007 in Lexington, KY. Now the program opens for a nationwide launch. To get the program jump started, the next five franchise offices will be offered at a discounted rate of $5000.00.
Franchisees are given extensive training, marketing assistance, business guidance, and access to the complete staff at the Barrington office to supplement any missing skill sets in a local office. With their focus on multiple streams of recurring revenue derived by supporting business clients, Excalibur offers a profitable business model found nowhere else.
Additional information about the franchise offering can be found at the Excalibur Technology Franchise website:
franchise.excaltech.com
Additional general information can be found at the Excalibur Technology website:
www.excaltech.com
###
Contact
Excalibur Technology Corp.
Scott Cummings
847-850-1150
franchise.excaltech.com

Contact