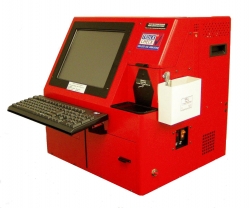 Palm Beach Gardens, FL, January 13, 2009 --(
PR.com
)-- On-Site Analysis, Inc. Launches Next Generation.
On-Site Analysis, Inc., providers of the patented TruckCheck® and MotorCheck® On-Site Analyzers (OSA) which are used to provide "lab quality" diagnostic fluids analysis for engines, transmissions, generators, hydraulics and power steering systems, on-site and within minutes, has advanced the technology with the introduction of five new OSA instruments. The OSA3 MicroLab, the TruckCheck® OSA3, the MotorCheck® OSA3, the MetalLab™ OSA3, and new to the OSA product line, a special OSA3M for Military vehicles. Will Willis, President & CEO stated that "Over the years, we've found that each industry has very specific, used fluids diagnostic needs. So rather than trying to have a 'one size fits all' mentality, we have developed unique OSAs for each industry application. With this introduction, now users only purchase the technical and diagnostic power they need, making their purchase more efficient and appropriate. Additionally, our new units are smaller, lighter, faster, and have modifications to make them significantly more 'user friendly.'"
Jim Hutchek, Director of Marketing & Sales noted that "With the current soft global economic conditions, it's imperative that equipment operators and equipment service providers utilize every tool available to reduce operating cost, improve up time, reduce breakdowns, increase service bay throughput, and extend the useful life of equipment. With our OSA3 technology, all of this is achievable with an instrument that is not only cost efficient, but as easy to use as an ATM. We're extremely excited about this advancement in our technology." To help differentiate the instruments, each OSA is color coded for specific industry applications. Jim Greer, VP Operations noted that "We've been working for over two years to position ourselves for this 'industry changing' introduction. Companies that need fluids analysis will no longer have to wait days or weeks for diagnosis analysis. With our new OSA3 units, results are immediate and they're easy to use and maintain. Plus, we've incorporated the latest software and internal components technology to our analyzers to make them the state of art in on-site fluids analysis."
In addition to the new OSA3 introduction, the LubeTrak® eMaintenance Program, a proprietary pass word protected data storage and mining program with instant "alerts" when an abnormal diagnostic is found, has been integrated into the new product line offering. Brett Winberg, LubeTrak® President stated "We are very excited about giving fleet owners the opportunity to manage multi location facilities from the comfort of their own desk. Our web based Product offering has become the gold standard in the fluids analysis data mining and storage industry. In fact, many competitors have even tried to copy our offering. If you can work with the industry leader, why would anyone bother to use the followers?"
As outlined above, each OSA has the ability to instantly, on a real time basis, analyze and down load diagnostic reports to a pass word protected web site. So not only is the fleet manager able to track and trend the maintenance and condition of his fleet, he gets notified immediately if there is a potential or emerging problem found in any piece of equipment anywhere in the world.
###