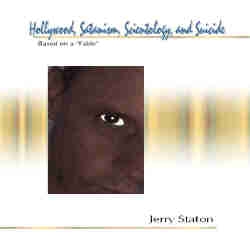 Phoenix, AZ, March 12, 2009 --(
PR.com
)-- Following its business plan that, in part, is to publish "on-topic/related subject articles and books," Betterdaze(TM) Hypnosis recently published its first book, Hollywood, Satanism, Scientology, and Suicide by American author and professional hypnotist, Jerry Staton.
Mr. Staton became interested in Scientology after witnessing the bizarre behavior and personality change that the practice of Scientology had precipitated in a close friend. The published findings of numerous government inquiries (none of which were conducted by the U.S. government), the affidavits and court testimony of former high level members, and the expert analysis of Scientology practices that he uncovered in his search for answers paints a much different picture from the one that Church officials present.
"Hollywood, Satanism, Scientology, and Suicide" is a must-read for anyone who may be considering giving Scientology a try, and it is available through amazon.com and Changing Hands Book Store, Tempe, AZ.
Betterdaze(TM) Hypnosis also produces New Age-Meditation CDs that are available on amazon.com and distributed by New Leaf Distributing Co., Lithia Springs, GA.
###