Sending Out an S.O.S. - Message in a Bottle: Eternal Youth Empire Highlights National Foster Care Month by Celebrating Children and the Young at Heart
National Foster Care month happens May and now is the time to shine a spotlight on several worthy causes that champion children as well as the inner child in us all. Read on to find out how to make any talented child's dream come true for free, especially yours.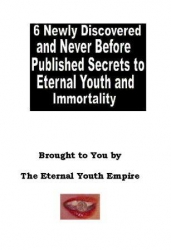 Sacramento, CA, March 25, 2009 --(
PR.com
)-- Eternal Youth Empire, a not-for-profit organization based in California, is dedicated to enlightening the masses on vital global issues such as remaining eternally youthful, regardless of how "old" one is. Their guidebook, "6 Newly Discovered and Never Before Published Secrets to Eternal Youth and Immortality," delivers exactly. Best of all, their guideposts are 100% free to test, to see they work.
As such, Eternal Youth Empire is donating this guidebook to SOS Children's Villages in Florida, to support their Masquerade Ball, "An Evening in Venice," on May 2, 2009, which benefits South Florida foster children, in honor of National Foster Care month. One does not have to be a non-profit to give to this cause; anyone with anything of value may donate appropriate item(s) for the auction, as long as it arrives by April 17. The bonus is all donors receive publicity in the widely disseminated SOS Children's Village literature. For tickets or sponsorship opportunities, call 954-420-5030 or visit www.sosflorida.com.
For those of us who have nothing tangible to give or are simply not willing to budge from a computer, supporting kids can be free and simply a mouse click away. An organization titled All Star Planet makes the dreams of children ages 7 to 14 come true in a web talent contest, with proceeds benefitting numerous charities. To find out how to enter your own bundle of talent into the competition or to help make a youngster's dream come true with just a vote, simply click on this link of the "True Friend" performance
link.brightcove.com/services/player/bcpid1847328948
and feel good knowing you helped make 9 year old Alana and Kaitlinn's dream come true without spending a penny. Their performance specifically highlights American Heart Association and War Child.
To learn more about Eternal Youth Empire, visit http://www.EternalYouthEmpire.com. Their president Von Launius was once a foster child who blossomed into a philanthropist and motocross firebrand. Von was handpicked by founder Veronica Grey for the leadership position, after witnessing his radical self reliance during Burning Man 2008.
As all these participants in these charitable causes know, nothing keeps one's inner child glowing more than spending time with children and putting smiles on their faces.
###
Contact
Eternal Youth Empire
Staff Writer Gina Nonie
1-760-413-6164
www.EternalYouthEmpire.com

Contact