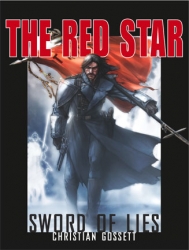 Los Angeles, CA, April 30, 2009 --(
PR.com
)-- The Red Star #1 and The Red Star #2 are currently available. If you have an iPhone, iPod touch or Google Android, you can download, rate and review The Red Star #1 and #2. Simply search for "The Red Star" on the iPhone or Google Android.
The Red Star #1 is Free for a limited time.
If you have an iPhone or iPod touch you can also
click here
to be taken to the iTunes app store.
The Red Star #3 will be available soon!
The Red Star Worldwide Premiere: Trade Paperback #4 Sword of Lies - an epic 200 page graphic novel - will have its worldwide premiere at San Diego Comic Con 2009 or buy it online now at the
Red Star Store
.
The Red Star, one of the most celebrated graphic novel series of the decade, is an epic mythology inspired by the art and history of the Soviet Union. Sword of Lies is the 4th graphic novel in the collection. Integrating traditionally drawn characters and computer generated environments, The Red Star is unique in its cinematic visual style.
With unforgettable pencils by multiple Eisner nominee Christian Gossett and extraordinary digital painting by the world famous Weta Workshop New Zealand, this 200 page graphic novel not only continues the adventures of the Skyfurnace Konstantinov, it takes readers back to the origin story of The Red Star.
The Red Star: The Epic Continues - And not to worry, for those of you only now discovering one of the most unique worlds in epic fiction today, or for those who wish to show their friends firsthand why you just can't stop going on about this Red Star thing, a supply of the classic Red Star Trade Paper Backs, nominated for multiple Eisner awards and voted one of the 100 greatest graphic novels of all time by Wizard magazine, is currently available at
The Red Star Store!
###
The Red Star and all related characters and artwork are TM & © 1999-2009 Christian Gossett