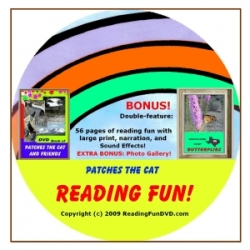 Estes Park, CO, June 15, 2009 --(
PR.com
)-- Patches The Cat Reading Fun DVD is a entertaining tool for parents and educators to help stimulate the desire to learn with color, sound effects, humor, photographs, real places and animals, and the most important element - reading.
We have become a culture of computer and video games. Players get lost in varying degrees of a fantasy world on a daily basis.
"While it can be argued that video and computer games may help children gain some amount of dexterity and reasoning abilities the question remains, 'What about children's loss of their perception of reality?'" asks K L Turman, Producer of Patches The Cat And Friends Reading Fun DVD.
Even in the recession we continue to purchase video and computer games for our young children. "What about books? Most book sellers are in trouble," said Mr. Turman. "The Reading Fun DVD is perfect for a portable DVD player."
It contains Patches The Cat And Friends, a 32-page collection of a story and photos of real animals and places narrated by Chipper Chipmunk punctuated with sound effects; Book Of Butterflies (Texas), a 24-page combination of real butterfly photos and interesting butterfly facts with narration and background music (Did you know some butterflies are reported to make a "clicking" sound?); and the 72-page Photo Gallery of interesting places and animals.
Reading Fun DVD .com offers the DVD for only $15.95 - which includes First-Class postage. The running time is 26:34 with a colorful printed DVD and Retail-ready jewel case with UPC barcode.
"The Grandparent Special knocks $16.00 off of the price for four DVDs, giving you four for the price of three", the publisher said, "They are a perfect Birthday, Christmas, or just Special Kid present. You get discounts for two or more disks purchased plus free shipping."
The producer said non-exclusive wholesale agreements are invited, and a 'Display Special' of five DVDs and a vinyl-covered display easel for only $49.95 is available at www.ReadingFunDVD.com.
A wholesale price list is available on the web-site in Word format or by eMailing ReadingFunDVD.com@gmail.com.
"This is a great product to sell in any family environment," says the author, "and it also has a good profit versus investment ratio. The Display Special gives you $29.80 in profit for a $49.95 total investment (no shipping cost). It is a unique and practical gift for grades K - 5th."
The settings of Patches The Cat And Friends - the first feature, are Estes Park, Rocky Mountain National Park, the Big Thompson River canyon, and Loveland, Colorado.
###