Simple, Rapid Detection of Biodiesel in Diesel and Oil in Water for the Nuclear Industry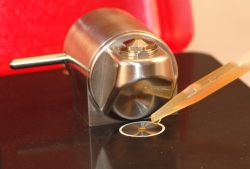 Danbury, CT, July 23, 2009 --(
PR.com
)-- A2 Technologies announced today that its iPAL FTIR analyzer is now available with sampling technology and pre-loaded methods specifically designed for measurement of chemical species of significant importance to the nuclear power industry. Battery powdered, portable iPAL analyzers are rapidly being adopted in nuclear power plants throughout the world to ensure reliable facility operation, regulatory compliance as well as supporting pro-active maintenance programs.
iPAL systems easily handle some of the most time consuming chemical measurements - analyses that would typically take hours or even days off site are now handled by the iPAL system right on-site in a matter of minutes. For examples, iPAL analyzers quickly and easily measure %biodiesel in diesel fuel to levels as low as 0.025%, well below current worldwide regulatory guidelines. These measurements are carried out in less than one minute without the necessity to send samples to an outside laboratory. iPAL analyzers easily and quickly measure the level of oil in cooling water, level of water in lubrication fluids and degree of oxidation of lubricants or fuel. A2 Technology also offers the PAL analyzer, a bench top version of the iPAL, for customers who do not require battery operation or portability.
The rapid analysis capability of the iPAL is a result of the superior performance of the system coupled with A2 Technologies' proprietary TumblIR sampling interface. This sampling system, which is integral in the iPAL system, allows transmission infrared measurement of liquids without the traditional difficulties of using liquid IR cells. Using the pre-loaded methods, the operator simply places a single drop of fluid on a window, initiates a measurement via a single operation, and the system collects, analyzes reports the data in easy to understand format. Clean-up is simply a wipe of the sample windows.
For more information on how A2 Technologies iPAL analyzer can benefit the nuclear power industry, please contact A2 Technologies Headquarters at 203.312.1100 email: info@a2technologies.com or Internationally, A2 Technologies LLC in Europe / Asia on telephone +44 7765 970 210 or email
intlinfo@a2technologies.net
.
###
About A2 Technologies
Headquartered in Danbury, Connecticut, A2 Technologies is specializes in FTIR Technology for lab and field use. A2 Technologies manufactures and develops portable FT-IR spectrometers designed for the analytical needs of the petrochemical, environmental, aerospace, art conservation, academia, geoscience general environments where there is a need for analysis. The portable FT-IR analyzers extend the proven capabilities of Fourier Transform infrared technology by rendering sample preparation obsolete and ensuring real time results.
Contact
A2 Technologies
Valerie Lopez
203-312-1100
www.a2technologies.com

Contact