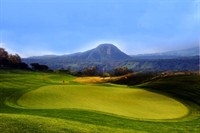 Liberia, Costa Rica, August 28, 2009 --(
PR.com
)-- Craig Williamson, President of ERA Real Estate in Latin America and Chairman of the Green Building Council of Costa Rica, and Frank Biden, brother of U.S. Vice President Joe Biden and Director of a major philanthropy in Central America that provides pediatric aids relief, homes and scholarships for the poor, are headlining a multilateral partnership between ERA Real Estate in Latin America, Cygnus International and the Guanacaste Country Club. The goal of this partnership is to call on resources available to the companies and individuals to reform the social, economic, and environmental practices of real estate developers across the world by example.
"Now that I am involved with Craig Williamson as a business partner and friend, I want to bring that same spirit of giving and service to everything we do. Not only is it the right thing to do as a developer in the local community; it is intensely practical from a business standpoint. Prioritizing the health and wellbeing of employees, members of the local community and protecting the breathtaking beauty that is Costa Rica is a money maker", Biden said. Their goals include leveraging the Green Building Council chapters to promote sustainable building practices and socially sensitive development in Latin American countries.
The LEED Platinum rated
Guanacaste Country Club
, the only LEED certified clubhouse in Latin America, is a luxury development designed to operate on a logical pricing model while internalizing wealth in the region. Mr. Williamson said that "by adhering to our core principles of integrity, socio-environmental responsibility and technological innovation; we want to build a relationship of trust with our customers and neighbors in Guanacaste. As a derivative of those principles, we have created our logical pricing model, which bases its price on fundamental equity value rather than artificially inflated market values."
He explained that the current model of luxury home sales creates an artificial barrier by increasing the price based on the "luxury" title, while logical pricing focuses on the actual value of the home and places the price within the means of prospective buyers. This logical pricing model is made possible due to the large scale of the development, so costs are reduced and passed on to the buyer. Another result of the creation of the Guanacaste Country Club is that it will generate a wealth of new employment opportunities during development, as well as permanent positions in staffing.
"The GCC, ERA Real Estate in Latin America, Cygnus International and all of the companies and organizations involved in this mission are dedicated to the same objective: to create better way of doing business for customer and community and spread this business model by showing that doing right is the morally and financially sound decision," Williamson said. Plans to involve strategic real estate, governmental and banking institutions in Latin America throughout construction and operation of the GCC will streamline the development phase and provide better opportunities for investors locally and abroad.
"Engagement and entrepreneurship are 21st Century concepts to be propelled by technology and the new paradigm linking development with social justice," Frank Biden said. Mr. Williamson added, "There is also a great and growing demand for sustainable homes as environmental awareness and energy prices rise. We are filling that demand by using the latest technology and techniques to create an eco-friendly community in this slice of paradise. Sustainability is the natural and only future option in society, and consumers and investors alike are coming to that realization. I've always held that doing well without doing good is an aimless pursuit, so I want to do whatever we can to move society in this direction sooner rather than later."
About ERA Real Estate in Latin America
ERA Real Estate in Latin America has the Master Franchise for ERA Real Estate (www.eralatinamerica.com) for the countries of Mexico, Belize, Costa Rica, Panama and Nicaragua, and currently has 22 offices open in these countries. It is our mission to act as the sales organization for the developments in these markets as well as strong, high tech brokerage businesses. All ERA Offices are independently owned and operated. For nearly 30 years, ERA has set new standards in customer service, technology and training for the real estate industry. The vision of ERA is to provide the total solution for forward thinking individuals, who wish to build a quality and profitable real estate business.
About the Guanacaste Country Club
The Guanacaste Country Club is a 2,500 acre development in Costa Rica which focuses on sustainable development technology and social responsibility. Through a combination of socially conscious design, placement, and technology utilization, the GCC has created a large-scale community where world-class amenities are available at logical prices that allow regular people to enjoy a slice of paradise.
The Guanacaste Country Club is a company of Virtus One Corporation. The Three Core Principles of Virtus One are: Integrity, Social and Environmental Responsibility, and Technological Innovation. Since its creation, Virtus One has brought new sustainable building techniques into the communities they have entered and educated local developers on competing in the Real Estate market. Their educational initiatives have led to an outstanding increase in conservative Real Estate practices in some of the most bio-diverse nations in the world.
###