Beasley & Henley Works with Charities in Slow Times
"We have the time, we have the designers, we are happy to help." Award winning design firm, Beasley & Henley Interior Design has a few designers with time on their hands as they wait for the market to pick up. This is the perfect time to 'give back' and work with charities who may need their help.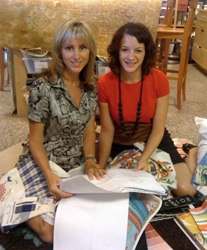 Winter Park, FL, September 01, 2009 --(
PR.com
)-- Beasley & Henley Interior Design is having a slower than average year, just like everyone else. Unlike many in their field however, they have not had to have layoffs or work reductions.
"We are doing fine, but we still have designers with some time on their hands," explains Co-Owner Stephanie Henley. "So if we have the time, we are happy to reach out and help those who may need us."
Henley put the call out to several Central Florida charities, letting them know that if they needed design work of any kind, now is the time.
The Children's Home Society Crisis Nursery and the Coalition for the Homeless are the two they are working with now to help spruce up some of the areas for the residents and the children who live at their properties.
Henley notes, "The people who work at these places see the things that need to be done to make them more livable and homelike, and they do a great job. But they are focused on day-to-day challenges and providing services to the residents. Fixing plan layouts or improving colors and providing more comfy bedding for the kids- they know it has to be done, but they don't always have the time or inclination to do it."
They certainly don't have the funds to pay a professional to come in and help out. They operate on a shoestring budget even in the best of economic times. Henley sees the economy improving substantially in the next few months but for right now, "We have the time, we have the designers, we are happy to help."
For more information on Beasley & Henley log onto www.beasleyandhenley.com or reach Stephanie Henley at stephaniehenley@beasleyandhenley.com. For Donations to the Children's
###
Beasley & Henley Interior Design is a 16-year-old interior design firm, specializing in Exclusive Residences, Interior Architecture and Luxury Commercial Interiors. Their work has been featured in regional and national publications and their awards are numerous. Beasley & Henley's award winning design and architectural detailing can be seen throughout Florida and across the country.
Contact: Stephanie Henley
stephaniehenley@beasleyandhenley.com
407-629-7756
Contact
Beasley & Henley Interior Design
Stephanie Henley
407-629-7756
www.beasleyandhenley.com
blog.beasleyandhenley.com

Contact