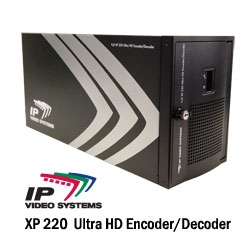 Sunnyvale, CA, September 08, 2009 --(
PR.com
)-- IP Video Systems Inc, the leader in real-time Ultra HD video and desktop graphics streaming and collaboration, announced shipment of its latest product - the V2D XP 200-D – a dual channel hardware encoder/decoder in an ultra quiet desktop form factor for video streaming and remote collaboration applications.
"IP Video Systems' V2D XP 220 desktop form factor design brings our state-of-the-art Ultra HD encoding and decoding technologies to the conference room," said Johan Pirot, President of IP Video Systems. "Optimized for real-time ultra HD high-resolution video and desktop graphics sharing and collaboration, the V2D XP 220 offers unparalleled interactive experience among users on a global basis."
"The desktop form factor offers a smaller footprint and ultra quiet fan design, allowing the V2D XP 220 to be integrated in intimate collaboration environments like conference areas, meeting rooms, and offices where low noise levels are desired," said Claude Sandroff, Vice president of Sales for IP Video Systems.
"IP Video Systems continues to dominate in the real-time ultra HD video and desktop graphics sharing over IP networks," said Yogesh Khare, Director of Marketing for IP Video Systems. "With the latest V2D XP 220-D encoder/decoder capable of streaming two channels of Ultra HD video at 30-inch Apple Cinema HD Display with 2560-by-1600 resolution."
IP Video Systems' V2D XP 220 with integrated multi channel, dual link DVI functionality of Ultra HD encoding and decoding in a single unit, delivers real-time streaming of 4 megapixel resolution graphics and video at high frame rates over IP network. IP Video Systems V2D XP 220's software controlled configuration offers convenience and flexibility of two channels or bi-directional high-resolution workstation graphics and video to be shared with remote teams.
IP Video Systems' offers Digital Media Servers (DMS 100/200/1200/1500) capable of recording and storing video streams encoded with V2D product line. IP Video Systems also offers management system software and a software desktop client viewer that let enterprises manage multiple HD video tele-collaboration sessions with real-time viewing, recording and distribution over IP networks.
IP Video Systems products are used worldwide in visual collaboration applications ranging from real-time simulation and training in defense, remote operations and monitoring in oil & gas exploration, and real-time training in medical and remote surgical procedures.
IP Video Systems Telecollaboration™ solution are used worldwide by Fortune 500 companies including Boeing (NYSE: BA), Rockwell Collins (NYSE: COL), Exxon Mobil Corporation (NYSE: XOM), BP (NYSE: BP), and Stereotaxis, Inc. (Nasdaq: STXS).
To learn more about the V2D XP-200 and IP Video Systems contact: sales@ipvideosys.com or visit us on the web: www.ipvideosys.com
About IP Video Systems, Inc.
IP Video Systems is the leader in real-time high-definition video and high-resolution graphics streaming, recording and collaboration. Headquartered in Sunnyvale, California, IP Video Systems products are available directly or through industry leading value-added resellers, system integrators and distributors. For more information visit us at www.ipvideosys.com
IP Video Systems, Inc
1287 Anvilwood Avenue, Sunnyvale, CA 94089
Tel: (408) 400-4200 Fax: (408) 400-4101
###