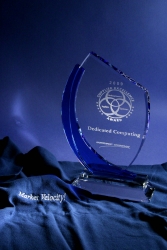 Waukesha, WI, December 02, 2009 --(
PR.com
)-- Dedicated Computing LLC is pleased to announce that Northrop Grumman Corporation, Information Systems (NGCIS) division, has honored Dedicated Computing with the Supplier Excellence Award.
The Supplier Excellence Award recognizes those exceptional suppliers whose performance and commitment helps NGCIS support their warfighter customers. In fact, only 24 of Northrop Grumman's 10,000-plus suppliers were singled out for this prestigious award. NGCIS President Linda Mills noted the exclusive nature of the recipients, and pointed to their consistent achievements in terms of schedule, management performance and responsiveness, technical performance, financial performance, and quality and mission assurance.
Dedicated Computing provided extensive engineering support for ruggedized computer systems as part of a radar processing project being introduced by Northrop Grumman. In accepting the Award, Dedicated Computing Executive Vice President Ed Allen referred to the critical role of Market Velocity during the product launch. "Now, more than ever, there is a need to get new products to market ahead of the competition. It was critical to provide engineering, supply chain management, manufacturing and support in a coordinated effort."
Sector Vice President for Northrop Grumman Cynthia Hyland summed it up: "Dedicated Computing seeks to identify only solutions, not problems."
The awards were presented in McLean, Virginia, on November 12.
Please visit them.
Dedicated Computing:
http://www.dedicatedcomputing.com
About Dedicated Computing LLC
Dedicated Computing designs, validates, integrates, and manages the life cycle of embedded, single-purpose computers for OEM device manufacturers. Dedicated Computing product and service solutions support a variety of customer applications across many industries including healthcare, defense/aerospace, security and related markets. Dedicated Computing is headquartered in the metro Milwaukee, WI, area.
###