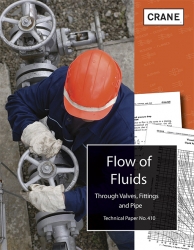 Lacey, WA, December 16, 2009 --(
PR.com
)-- Engineered Software, Inc. today announced the official release and shipment of the new 2009 edition of Crane's Technical Paper No. 410 (TP-410). After much anticipation, and nearly 500 pre-orders, the technical guide developed and published by Crane will be distributed via
www.flowoffluids.com
(an Engineered Software, Inc. business) and starts shipping today.
Originally developed in 1942, the TP-410 is the standard technical resource explaining the flow of fluid through valves, pipes and fittings, aiding engineers, designers and students in the appropriate selection of equipment for piping systems. The TP-410 has been updated several times, but the 2009 edition marks the introduction of a companion website containing a suite of web-based tools that solve equations found within the paper. With significant improvements to images and graphs, other new entries include chapters on Pumps, Control Valves and Flow Meters, as well as an updated bibliography and technical references.
"We know the anticipation for this release was great, and we really appreciate the patience of our pre-order customers, and are excited to get this endeavor out the door," said Michael Blondin, Chief Operating Officer at Engineered Software, Inc. "This updated edition has significant improvements and we thought free interactive calculators would be appropriate enhancements."
"We are excited about the new updates and the online aspect that will be incorporated in bringing all of its users up to date, and recruiting new ones that aren't currently aware of its benefits," said Dale Friemoth, VP Business Development at Crane. "We are hoping that the seamless integration of the new Flow of Fluids website with the 2009 edition of Crane's TP-410 will prove to be both beneficial and appreciated by the engineering and valve communities."
Book Details
Title: Crane Technical Paper No. 410: Flow of Fluids Through Valves, Fittings and Pipe.
Price: $60 U.S. Dollars
Preview PDF Available: http://www.flowoffluids.com/media/13849/tp410previewsm.pdf [PDF]
Calculators: http://www.flowoffluids.com/calculators.aspx
Notes: Currently the 2009 Updated Edition is only available in U.S. Edition, Metric Edition to be released in the following months. To order or check for Metric Edition availability, visit www.flowoffluids.com, call (360) 292-4070 or email sales@flowoffluids.com.
###