Team Gill Racing and Fenton Racing Merge for the 2010 NASCAR and ARCA Season
After a successful test at Daytona, Team Gill and Fenton Racing have shown that they will be a factor at any race they enter in 2010. Contesting both the Arca and Nascar Campingworld Truck races, the duo expect to turn heads in the upcoming season.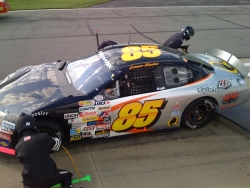 Tyler, TX, December 23, 2009 --(
PR.com
)-- Veteran NASCAR crew chief Danny Gill, has taken a big step forward in his career by merging with Fenton Racing to form Team Gill Racing. Gill, a native of Murfreesboro, Tennessee, has had a very successful career as a crew chief in all of NASCAR's top three series, including a record-setting season in 2004 where he was awarded NASCAR's "Crew Chief of the Year" award. He feels that now is the time to step up and further his success as the role of team owner.
Along with his merger with Fenton Racing, based out of Tyler, Texas, Danny will be helping pave the way for rookie driver Lance Fenton to compete in the ARCA ReMax Series and the NASCAR Camping World Truck Series in 2010. The duo recently had their first successful test session at the 2.5-mile Daytona International Speedway for the ARCA series. The test was Fenton's first time to drive on a superspeedway and Gill's experience mixed with Fenton's talent proved to be a positive beginning to what lies ahead at Team Gill Racing by posting times in the top-10 during the opening test session at DIS on Friday in a Team Gill prepared Dodge Charger.
Danny and Lance's racing debut will not be on a national level, but on an international level. The team will display their combined talents at the ASA Invitation only race at the 1.5-mile Phikasa Oval outside of Johannesburg, South Africa January 31, 2010. Upon arrival back in the United States Team Gill Racing will also field a car in the ARCA ReMax Series race at DIS for Fenton's first superspeedway race of 2010. As of this release, Fenton is scheduled to compete in two ARCA ReMax Series races, and seven NASCAR Camping World Truck Series races during the 2010 season with Team Gill Racing.
###
Contact
Fenton Racing
Lance Fenton
903-592-9600
www.fentonracing.com

Contact