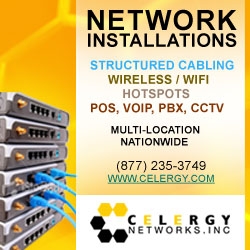 Carlsbad, CA, December 30, 2009 --(
PR.com
)-- Celergy Networks, a national network infrastructure installer and a pioneer in the integration of smart grid technology announced today the appointment of Martin W Greenwood as Executive Vice President of Business Development for Smart Grid.
Celergy Networks has been a recognized leader in IT and communications network services for over twenty years, and was one of the first systems integrators to enter the Smart Grid market, where it has been active since mid-2008. Its scope of work extends from high level consulting through design to project implementation including wide-area radio systems deployment (such as for SCADA, voice comms, ops data and security), core networks (dark fiber, ATM, microwave etc), and AMI (Advanced Metering Infrastructure). Celergy has done significant work in vendor selection, planning and business case analysis and is familiar with the heavily regulated environment of the energy utilities.
Martin W Greenwood comes to Celergy with more than 25 years' experience in the telecom sector, having been Chief Designer for Nokia's cellular base stations and later Systems Marketing Manager for complete systems where he handled the game-changing $200M+ deal towards O2 (now Telefonica). Through subsequent COO and GM positions, he established cellular data company Symmetry Communications in Europe and built it to $20M, managed growth and subsequent trade sale of design house Symbionics for $65M, and oversaw the turn-around and trade sale of telecom systems vendor Zenitel UK. He has founded a start-up integrating WiFi into GPRS and 3G services (sold to Intel) and has most recently been providing mobile TV services at international sporting events. Martin was awarded his top-ranking engineering Masters degree from University of Cambridge, England. He will be responsible for driving strategic growth initiatives within the Smart Grid sector.
"I am excited to join Celergy's management team and consider it a privilege to build on Celergy's substantial history and achievements by leading our work in this vital new market sector," said Mr. Greenwood, the new Executive Vice President, Business Development at Celergy Networks. "Celergy has entered this market early and established an excellent track record. It is well-positioned and I see many opportunities to assist in the upgrade and expansion of North American utilities' networks as well as to grow our own business."
Art Cormier said: "Martin brings important experience to Celergy Networks during an exciting time for us, as we use innovating breakthrough solutions to deliver smart-grid technology and integration services to our customers. Martin will be a tremendous asset to our world-class team as we deploy our Wireless Energy (or Smart Energy) department."
About Celergy
Founded in 1989, Celergy Networks, Inc. is a North American provider of IT Services specializing in design, engineering, installation and support of voice, data, video and converged network solutions, network cabling, wireless technologies, security, teleconferencing, CCTV, POS and specialty network endpoint solutions. Customers range from small-medium sized businesses and government entities to fortune 100 enterprises doing business in financial services, healthcare, retail, utilities, industrial, military, local, state and federal governments. For more information visit us online at
www.celergy.com
or contact us at (877) CELERGY.
###