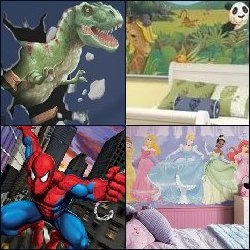 Holbrook, NY, May 10, 2011 --(
PR.com
)--
Wall Sticker Outlet
happily announces the launch of its theme bedroom ideas section for boys, girls, and baby nursery wall decor.
The newly-launched section contains articles, ideas, and general decorating tips for parents creating a children's themed bedroom or playroom. Most of the tips are related to wall decor, and how the walls of a child's room can be instantly transformed using wall stickers, decals, and full-sized printed peel and stick wall murals.
Boys and girls themes are covered in detail, offering fresh new ideas for decorating. The tips include many ways the reader can get his or her child involved in the decorating process, especially since many of the wall decals mentioned are fully removable, re-usable, and repositionable. Everything from small applique sticker packs to oversized multi-panel wall murals are covered, with full explanation on how to apply and install these products.
Most of the more popular themes are covered in this newly-added portion of Wall Sticker Outlet's website, including a dinosaur themed bedroom, sports-theme ideas, a pirates theme room, and even a bedroom tricked out to look like the deck of a spacecraft looking out over outer space through colorfully printed porthole and console decals. The superhero themed room is also covered, with decals and murals designed for both young toddlers and older children still fascinated with Spider Man, Superman, Batman, Iron Man and more.
Girls decorating ideas include the ever-popular princess theme, including all of the different Disney princess options available for decorating today. These include Cinderella, Snow White, Belle, Sleeping Beauty, Arial the Little Mermaid, and even newer princesses like Tiana (from the Frog and the Princess) and Rapunzel (from Tangled). Tinker Bell, another Disney favorite, is also included as a decorating option.
Gender-neutral designs are covered as well, with special attention being given to decorating a jungle or safari-theme bedroom. This particular theme works well whether you're designing a boys or girls room, and is especially popular when it comes to centralizing jungle or zoo animals around a baby's nursery.
Wall Sticker Outlet plans to continually add more theme ideas and decorating tips for both boys and girls, as well another section dedicated to home wall decor. This would include decorating living rooms, family rooms, and even kitchens with removable wall decals, elegant wall trees, and peel-and-stick wall word cutouts in a variety of custom names and phrases.
Be sure to visit the Wall Sticker Outlet for a complete line of wall stickers for home or office, and to check out their full list of
Kids Theme Room
ideas for decorating.
###