Raw Talent Guitar Lessons for Beginners Software Announces New Price for September 1, 2011
Raw Talent Guitar is setting a new price for their guitar learning software that will go live on September 1, 2011, bringing an end to the introductory price. The company will keep free shipping in the 48 contiguous states and plans to move into stores for the 2011 holiday season.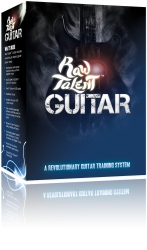 Boca Raton, FL, August 16, 2011 --(
PR.com
)-- Today, Raw Talent, Inc., announced a new price of $209 for their revolutionary guitar learning software, Raw Talent Guitar, which features lessons for beginners, digital amp and FX, guitar playing tips and famous guitar songs ranging from easy to hard.
The new price is set to increase on their Web site on September 1, 2011, bringing an end to the introductory price of $199.
"We're making this announcement so that consumers looking to buy guitar learning software will have one last chance to purchase Raw Talent Guitar at the introductory price of $199," said Marc Quadagno, Director of Media Relations for Raw Talent Guitar.
"Plus, we're giving out this coupon code for an additional $20 off," said Quadagno. "Customers can enter coupon code 'lastchance' to save and the promo code expires on September 1, 2011."
Last week, the company set the date to raise the price and announced their plans to move into music stores for the holiday season. The company is currently looking for new distribution channels to share their brand of guitar education and as part of their strategy the company will raise the price from $199 to $209 on September 1, 2011.
"Raw Talent Guitar is a great supplement to any lessons a guitar instructor might use, but also works as a standalone tool," said CEO Lawrence Fisher. "Now, following our appearance at Summer NAMM 2011, we plan to move into the guitar lessons review sections of music stores across the country."
Raw Talent Guitar has been on the market for six months with national advertising and continuous public relations campaigns, including appearances at CES 2011 in Las Vegas, SXSW 2011 in Austin and Summer NAMM 2011 in Nashville, and the company plans to end the year strong.
"When we launched at the Consumer Electronics Show in January, our product was only available online," said CEO Lawrence Fisher.
As part of their ongoing strategy to find a place on store shelves, Raw Talent Guitar does not expect this new price will affect sales from current online distribution channels on RawTalentGuitar.com or Amazon.com.
"We launched our product at the lowest price available and we promise to keep our product at the minimum amount," said CFO Scott Fisher. "We want our current price of $199 to remain our retail price as we expand, and a slight price increase of $209 online is necessary to grow our brand."
"Presence in stores simply means more exposure, and our Web promotions will continue to grow our brand," said Quadagno. "Whether you want to purchase at your local music store, or for those more prone to online purchases, we'll be there whenever you're ready to learn to play guitar."
Raw Talent, Inc., launched their flagship product, Raw Talent Guitar, at CES 2011 in Las Vegas and executives expect continued growth with an even higher sales rate through 2012.
###
About Raw Talent Guitar
Raw Talent Guitar was founded in October 2008 by brothers Scott and Shaun Fisher after they realized limitations in learning to play an instrument with video instruction, which lack instant feedback or evaluations from an instructor. Many involved with the project are musicians by trade, and many professional musicians and guitar instructors were consulted to make Raw Talent Guitar as accurate as possible. The company mission is to be the worldwide leader in providing the most fun and accurate at-home training and evaluation tools for self-taught musicians and artists for use with their personal computers.
Contact
Raw Talent, Inc.
Marc Quadagno
561-226-7630
www.rawtalentguitar.com

Contact