Xclaimed Ministries 7-7-7 Event at the Rose Bowl Stadium - An Xtraordinary Success
The Xclaimed Ministries, July 7, 2007 event at the Rose Bowl Stadium was an Xtraordinary success. Over 9000 people enjoyed a day of celebrating Jesus Christ with seven hours of entertainment and worship by seven bands and an evangelistic message by Pastor Paul Karanick.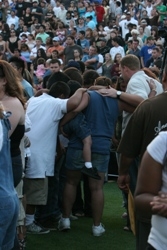 Pasadena, CA, July 20, 2007 --(
PR.com
)-- On July 7, 2007, over 9,000 people attended Xclaimed Ministries' first free evangelistic Christian concert at the Rose Bowl Stadium in Pasadena, California.
Rev. Paul Karanick and his wife, Christina, began Xclaimed Ministries in 2005 as a vision to reach people outside the church walls. The Karanicks agreed to sell their four-unit apartment building in Dana Point, California to fund a free evangelistic concert. After two years of following God's calling, they ended up renting the Rose Bowl Stadium in Pasadena, California. Neither Paul nor Christina had ever done anything like this before, but they had faith that God would provide everything necessary. After one-and-a-half years into the journey, the cost of the event and advertising was double the amount that they had available, but this did not deter the Karanicks. They continued planning the event, knowing that God had called them to complete this outreach. Paul often referred to scriptures such as Isaiah 66:9 which reads, "'Shall I bring to the time of birth, and not cause delivery?' says the LORD." God's Word gave Paul Karanick the assurance that God will not fail. Paul Karanick also says, "In the Bible, only one person besides Jesus walked on water. Peter was the only disciple that got out of the boat while the others stayed in the boat watching. I personally want to walk on water towards Jesus, not watch someone else do it."
As the July date grew closer, Xclaimed Ministries was able to be an example of faith in the One True God. They created an email prayer group with hundreds of people praying every Friday for God to prevail throughout this new ministry. In the last 45 days before July 7th, the prayer emails had increased to almost a daily request for prayer. It was evident that a spiritual battle was underway and Xclaimed Ministries was being tested for their faith.
The Rose Bowl Stadium gates opened just before 3:00PM and the Xclaimed Ministries 7-7-7 event began with thousands of people streaming in to secure the best seats. There were also activities for all ages including a motorcycle and car display, children's area, shopping and non-stop music from 3:00PM – 10:00PM. The Christian band lineup included BarlowGirl, Skillet, Leeland, The Afters, Warren Barfield, KJ-52, Decyfer Down and the Xclaimed Ministries Band. BarlowGirl was unable to attend the event due to airplane maintenance issues. This amazing group of bands rocked the Rose Bowl Stadium. Paul Karanick preached an evangelistic message entitled "Don't Steal the Pen" providing first-hand proof that God has a better plan for us than we have for ourselves. Pastor Paul highlighted the fact that the only way to experience what God has planned for us is to give our lives to Jesus Christ and follow His Word.
The final cost of the event was $210,000 and the event was produced by Xclaimed Ministries. The 7-7-7 event surpassed all expectations. Paul Karanick says, "I am the most unqualified person to do this ministry, but it is proof that God can use anyone. We just need to trust Him. The success of this event was totally the work and power of Jesus Christ."
The Xclaimed Ministries 7-7-7 event included 7 hours of entertainment and worship, 7 bands, over 9,000 people in attendance and 265 new commitments to Christ. Praise God.
Additional informations, pictures and video are on the web site. http://www.xclaimed.org
We received several email responses:
- Paul, just want to let you know that your obedience to God's call was an inspiration to us. You made an eternal difference on Saturday. Thanks for letting the Lord use you. Blessings to you and your family ...
- The Xclaimed event was absolutely incredible! You guys had an awesome line-up of bands. My daughter and I had an absolute blast. I really enjoyed the message and as I always do, I cried during the altar call, it is so nice to see more people coming to the Lord. The sacrifice you and your family has made is inspiring. I hope this is just the beginning of more to come. It was such a positive experience for my 10 year old daughter who already loves the Lord. This just made it cooler to show her love for Him. We will make this an annual outing if there's more to come. I told all of my friends about it and will encourage them to attend as well. Once again thank you soooooooo much. God is good.
- Hello Paul and Christina,
I want to share a great little story about my 8 year old son Nicky that also attended the event. On Sunday we went to a birthday party at the park, Nicky was over playing with some kids and I walked over just to make sure there wasn't any trouble going on and when I got to the spot where the boys where my son was sharing with them the story you told about obeying the Lord in everything you do. It was sooo cool to see my little guy talking to other kids about the Lord, thanks for sharing your message. God bless you, your beautiful family and Xclaimed ministries.
- God bless you both for sacrificing for the kingdom. God was definitely in this event, Paul. Thank you for listening to Him.
- I just wanted to write and let you know how wonderful the 777 event at the rose bowl was. Your preaching was so moving. Thank you for providing everyone the chance to attend such a wonderful event. I hope that you have another event like it soon.
###
Contact
Xclaimed Ministries
Christina Karanick
949.248.9999
http://www.xclaimed.org

Contact