Microsoft Dynamics Names BlueStar 'Retail Distributor of the Year'
BlueStar VP of Marketing Mark Fraker and President/CEO Steve Cuntz recently accepted the Microsoft Dynamics "Retail Distributor of the Year" award at the Microsoft Partner's Conference in Denver, CO.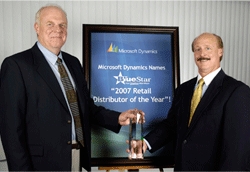 Florence, KY, August 08, 2007 --(
PR.com
)-- BlueStar has been recognized as "Retail Distributor of the Year," by the Microsoft Dynamics Group. The award was announced at the Microsoft Partners Conference in Denver, CO, by James Watkins, Director, Microsoft Dynamics US Retail.
Microsoft Dynamics' "Retail Distributor of the Year" award was established in 2005 to recognize the value a distributor has brought to Microsoft's business. This includes working with the Microsoft Dynamics RMS team to create new business and fulfill business plans, as well as handling Microsoft business with care and deep commitment to customer service.
During the announcement, Microsoft's Watkins noted: "Not only did BlueStar achieve a significant rate of sales growth with Microsoft, the company was able to recruit new dealers, create new business with innovative customer marketing programs, and help current dealers achieve significant revenue gains. BlueStar has created one of the most fiercely loyal dealer bases we have ever seen."
In accepting the award, BlueStar President/CEO Steve Cuntz stated: "Microsoft has been a consistent supporter of our market-building programs, and we thank them for both their partnership and trust. The award confirms that our vertical solutions-based programs branded as FUSION, create a win-win situation for both Microsoft and the Value-Added Reseller."
About Microsoft Dynamics
Microsoft Dynamics is a line of financial, customer relationship and supply chain management solutions that help businesses work more effectively. Delivered through a network of channel partners providing specialized services, these integrated, adaptable business management solutions work like and with familiar Microsoft software to streamline processes across an entire business. For more information on Microsoft Dynamics, please visit www.microsoftdynamics.com.
About BlueStar
BlueStar is a leading solutions-based distributor of point-of-sale, bar coding, data collection, radio frequency identification (RFID), and wireless mobility products. BlueStar works exclusively with VAR Partners, providing them with complete solutions at competitive prices. The company brings unequaled expertise to the market, offers award-winning technical support and is an authorized service center for a growing number of manufacturers. For more information about BlueStar, please contact a BlueStar sales representative or log on to
www.bluestarinc.com
. For additional FUSION information, please visit http://fusion.bluestarinc.com.
###
Contact
BlueStar
Kacey King
800-354-9776
www.bluestarinc.com

Contact