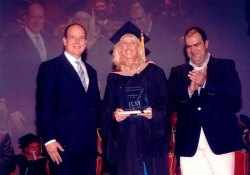 London, United Kingdom, September 23, 2007 --(
PR.com
)-- Formula 1 racing, the super rich, a history that includes Grace Kelly, later Princess Grace, super yachts, helicopters and sunshine. Monaco residents have a charmed existence. Once known as a sleepy spot, Monaco now attracts finance entrepreneurs, famous sporting stars and is lifting its status onto the world's financial stage. With thirty three thousand residents, in a breezy, Riviera space, Monaco is attracting people who are global talents, easily accessible to locals and formed into a unique club of high ranking dignitaries, royalty and famous stars but the playboy image is being put to rest. The ultra high net population is focused on global environmental and philanthropic concerns.
Tracy Mattes, who was raised in the USA, is one of these inspirational residents. After an international career as a high earning athlete, which meant training six to eight hours a day and a second career presenting and producing the evening news at NBC she has been living in Monaco for four years. She came to the area after being invited to the Principality to train for the Modern Pentathlon which ended up turning her life around. Unfortunately a horse riding accident resulted in a fracture in her hand and put her out of action for competition.
Tracy took the unwanted rest initially with difficulty but her determined spirit prevailed and eventually she decided to hone her business skills completing an MBA, where she finished top of her class, earning her the Valedictorian Award, which HSH Prince Albert II and Greek tycoon Stelios Haji-Ioannou, a Monaco resident, presented her with at her graduation ceremony. At the same time she came up with the idea of a business plan for a scientific Olympic Sports Training Centre in the region to help athletes prepare for high level competition. The centre would help coordinate training schedules at the many high level sporting facilities in Monaco, offer services like nutritional advice, health plans and accommodations for athletes in training, something that she had identified as missing throughout her well travelled career which spanned fifty three countries.
She sat down and wrote a plan which she submitted to a Business Plan Competition during the 2004 Investors Week in Monte Carlo, where she won her first business award for the project plan, leading it to be snapped up by big name investors. The building blocks are now being put into place to form the first ever world class scientific Olympic Training athletic 'home' in Monaco for international athletes.
Although athletes like Tracy can earn a million dollars a year on the circuit, she says the life is a hard one and not all celebrity and limousines which is why she wants to get this training centre in place. "There was a lot of hardship in between races, there were times you didn't know how you were going to get from one to another, but it always turned out to be an adventure. What we are creating here in Monaco, is something us athletes wish we would have had during our careers."
She tells a story which highlights tougher times. "During a competition in Cape Town, a friend said she used the phone in the hotel for just a few minutes and it cost over one hundred dollers. "I was in a total panic because I'd been on the phone around the clock. Fortunately the heavens intervened and a lightning storm caused a tree to fall on part of the hotel's main lobby, damaging the building and wiping out technology and phone records. "It was a bit of a relief, as I can imagine what my phone bill would have been." She says, with a big smile.
In the meantime she is busy wading through achievements that would take most of us decades. She has started work as a Marketing Director with the express aim of giving something back to the world. Jaguar Sports Corp. is a brand of sportswear in its infancy that intends to rival brands such as Nike. Jaguar Sports has put technology in place to make smart, saleable sports wear out of 98% recycled materials like plastic bottles, with eventual plans to locate a factory in Malawi Africa to bring opportunities to the local community. "Our goal is to teach those in poverty a model of sustainability, not just hand out money, which rarely ever reaches those in need," says Tracy. "Our goal is to be the next big brand." With her sweep of medals and achievements, Citywealth predicts "it might be move-over-Nike-time."
Working in conjunction with high ranking sports stars like Seb Coe, Tracy is also involved as a Representative to the United Nations ST-EP (Sustainable Tourism for the Eliminatin of Poverty) Foundation, and works with other high level committees involved with Peace & Sport, sustainable tourism and focusing, like many others, on the 2010 World Cup coming up in South Africa as a platform to highlight philanthropic and sporting initiatives to the thirty million people who will travel to Africa. "Sport transcends everything." She confirms.
###
www.citywealthmag.com
Citywealth newsletter, is a weekly online publication which features profiles and interviews with wealth managers and advisers to the super rich, ultra high net worth individuals, entrepreneurs and inspirational philanthropists around the world. They regularly run events which help this community meet and get to know each other and also to support charitable efforts. They currently have an upcoming billionaire event in Monte Carlo, 10th October 2007 for "Outward Bound Monaco" which is a charity supported by Prince Albert II. Doners to the lifestyle auction will receive "in kind" publicity and advertising to attendees of the event who are gatekeepers to the global super rich.
Please contact kjones@j-p-c.tv