New Assisted Living Facility Opens in Orlando
A new Assisted Living Facility has opened in Orlando. The Grand Opening and Open House will be on Thursday, May 8th, 2014.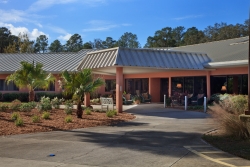 Orlando, FL, May 01, 2014 --(
PR.com
)-- For over twenty years Wellsprings has been a Nursing Home and hardly anyone ever knew.
Tucked away right off Welch Road, just across from Wekeiwa Springs State Park but not visible from the street, Wellsprings Nursing Home was operated by Christian Scientists but was not open to the public. While it became more and more difficult for them to operate the facility with Medicare cutbacks and fewer donations, the church eventually decided to close the facility and sell the property.
In August 2013 Andreas Mueller, a German born entrepreneur from Naples, FL bought the property and together with his wife Nitzia started remodeling and updating the facility.
The two buildings are located on over 13 acres of park so it took more than a little lawn mowing to restore the park to it's former beauty.
Inside the building maintenance and necessary repairs had been neglected for years and the Muellers spend another $200,000.00 to remodel, modernize, update and beautify.
Many local contractors worked on the new air conditioning units, the emergency generator, roofers, plumbers, the delivery drivers; the unisono opinion was: "This is a beautiful place, I have been living in Apopka for over 20 years but I never knew this place existed!"
Having gone through all the inspections and surveys necessary to comply with the strict Florida law and after the final Assisted Living Facility license has been issued by the State, the Wellsprings Residence is now open to the public and open for residents to move in. 17 Assisted Living Beds and 17 Independent Living Beds have been approved.
On Thursday, May 8th 2014 is the official Grand Opening and open house. Expected Guests include Apopkas new Mayor Joe Kilsheimer and Paul Seago, President of the Apopka Chamber of Commerce.
The public is invited to visit this beautiful Community, meet with their friendly Staff, chat with the first Wellsprings Residents and enjoy chef-prepared food.
Contact
Wellsprings Residence
Andreas Mueller
407-867-0111
www.wellspringsresidence.com

Contact
Multimedia
Wellsprings Residence is a new Assisted Living Facility in Orlando and they invite the public to visit the new Facility.