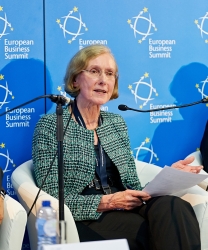 Gothenburg, Sweden, June 10, 2014 --(
PR.com
)-- Climate-KIC, the EU's main climate innovation initiative, is set to kick-off its activities in Sweden this week with a conference at Chalmers University of Technology in Gothenburg.
Following the launch of Climate-KIC's Denmark-based Nordic centre earlier this year by EU climate commissioner Connie Hedegaard, Chalmers University of Technology will introduce Climate-KIC to Sweden as part of the initiative's expansion across Scandinavia.
On Thursday, 12 June, the Lindholmen conference centre will host an audience of entrepreneurs, researchers and students. Climate-KIC Chief Executive Officer Mary Ritter and director of Climate-KIC's Nordic centre Susanne Pedersen will take part in the event, as will Gothenburg mayor Anneli Hulthén and Chalmers president Karin Markides.
Climate-KIC's expansion into Sweden comes as it is scaling up its presence across Europe this year. The organisation has recently unveiled a series of new climate innovation programmes worth over €100 million with corporate and academic partners across Europe. The programmes are aimed at dealing with the impact of global warming and stopping further climate change.
Mary Ritter, Climate-KIC Chief Executive Officer, comments: "Climate-KIC was thrilled to launch our Nordic centre in February this year and enlarge our innovation base to include this key region of Europe. I'm now delighted to be part of this first Gothenburg Symposium to highlight the important contribution that Chalmers makes to our European community, and I look forward to the growth and development of the Swedish partnership cluster within our Nordic centre, built on this excellent foundation."
Chalmers involvement
One of the new Climate-KIC programmes that Chalmers participates in is the Building Technologies Accelerator, of which a new 'living lab' at the Chalmers Johanneberg campus is an important part. The multimillion programme brings together multidisciplinary living lab teams across Europe to address the climate impact of new building technologies and accelerate the potential of low carbon products and services in the built environment.
Living labs are buildings to test technology prototypes in real-life environments, the people living or working in a living lab are part of the prototype testing. By conducting tests with actual building users and in real climate conditions, researchers can evaluate the performance of new products in a more realistic way.
Chalmers is also a partner in new Climate-KIC programmes on CO2 re-utilisation and sustainable cities.
Scaling up climate innovation
Climate-KIC is partially funded by the European Commission through its European Institute of Innovation and Technology (EIT) and receives financial and in-kind support from over 200 business partners, blue-chip corporations, universities and public bodies across Europe.
Climate-KIC is admitting more entrepreneurs than ever into its start-up accelerator this year – which is now the world's largest climate-specific accelerator. The EU effort also offers more courses for professionals in 2014 in addition to its existing programmes for Master and PhD students.
The initiative is also set to increase its ties with global partners, connecting Europe with major developing markets in key carbon-producing nations such as China and Brazil. Climate-KIC is expected to represent Europe's climate innovation community on the international stage throughout the year.
About Climate-KIC
Climate-KIC is the EU's main climate innovation initiative. It is Europe's largest public-private innovation partnership focused on mitigating and adapting to climate change. Climate-KIC consists of companies, academic institutions and the public sector.
The organisation has its headquarters in London, UK, and leverages its centres across Europe to support start-up companies, to bring together partners on innovation projects and to educate students to bring about a connected, creative transformation of knowledge and ideas into products and services that help mitigate and adapt to climate change.
Climate-KIC is one of the Knowledge and Innovation Communities (KICs) created in 2010 by the European Institute of Innovation and Technology (EIT), the EU body tasked with creating sustainable European growth while dealing with the global challenges of our time.
Nordic Centre
Climate-KIC's Denmark-based Nordic centre was launched in February 2014 and allows start-up entrepreneurs, businesses, climate professionals, students and government officials from across Scandinavia to join Climate-KIC's European partnership to work on innovative solutions for the cause and effects of climate change.
Aside from Sweden's Chalmers University of Technology, the Technical University of Denmark, the University of Copenhagen and two of Denmark's largest manufacturing companies – Grundfos and VELUX Group – and the City of Copenhagen will collaborate through the centre to tackle climate change and create green jobs.
The centre is embedded in the Technical University of Denmark's Lyngby campus – 15 kilometres north of Copenhagen – and will function as a hub for Climate-KIC's activities in the Nordic countries.
http://www.climate-kic.org