21 Yr Old CEO Mesmerizes Book Parade TV
21-year-old multi-lingual CEO, award-winning novelist, international charity founder, and composer & lyricist, RJ Tolson, is a man on the move, and as Book Parade TV Host Richard Wills recently discovered, you can find Tolson traveling coast to coast from New England to Los Angeles encouraging youths and young adults across the country to excel to their full potential by reading and using their imagination.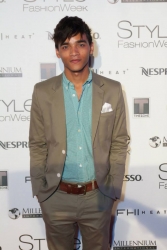 New Orleans, LA, August 13, 2014 --(
PR.com
)-- Book Parade TV, a television talk show with host, Richard Wills, and designed for book authors, experts and entrepreneurs, featured 21-year-old, one man powerhouse,
RJ Tolson
, who has two enlightening books that are making waves around the country. R.J.'s hottest creation is entitled
Chaos Chronicles Book 1: Zephyr The West Wind
. "This book is not just a good vs. evil story, it's much more" stated Wills, "it's an epic with the elements of action and adventure...you have science fiction, fantasy, fairy tales, myths and legends, superheroes, alien beings, folk tales, magical realism and paranormal to make this an extravaganza that's ideal for children and teen & young adult readers."
When you hear RJ's newly released
Zephyr The West Wind Original Book Soundtrack
, you'll see why it's evident that legendary composer, John Williams, had an impact on his life. RJ's introduction to classical music began when he was a young lad going to the symphony with his grandparents to see the Boston Symphony Orchestra being conducted by John Williams. These types of events provided RJ with role models who would help mold his life into the multi-talented musician, lyricist and composer that he is today. RJ stated that this introduction to classical music had such an impact on him that after his first semester at Whittier College he interviewed with the Boston Symphony for a Composers Summer Internship. This led to RJ not only composing a musical piece, but also performing his composition as a solo on the guitar before John Williams and other judges.
In addition to his book, Zephyr The West Wind, and
Zephyr The West Wind Book Soundtrack
, RJ shared with the audience his National Literacy Campaign, which is inspiring teens and young adults to read and write. In conjunction with this project, RJ discussed his recently released non-fiction self-help book, "
Project Limitless Volume I: The Success Initiative
." Wills added that "the book is a next level motivational, self-improvement and personal transformation book...with exercises after each chapter, the reader can examine and test themselves to see where they are now, where they wish to be and enhance their self-esteem." Wills continued, "The Success Initiative creates a remarkable bridge between motivation and improvement, success and innovation, strategy and competition, philosophy, epistemology, entrepreneurship, money, consciousness and thought, creativity, business, time management, investing and stress management."
Wills wrapped up the show with RJ sharing the experience from his speaking engagements at Whittier High School in Whittier, CA and at Oscar Nominee and Emmy Award-Winning Actress Cicely Tyson's Community School of Performing and Fine Arts in East Orange, NJ. During these engagements RJ emphasized to the student body that they are no longer competing on a national level, but on a global level. His message was "strive to be great."
Also, RJ wanted everyone to mark their calendar for two important dates: 1) August 14, 2014 is the release date for the
Hard Cover Edition of "Zephyr The West Wind"
; and, 2) August 15, 2014 - August 16, 2014 are the dates for the next stop on RJ's book tour, which will be in New Orleans, Louisiana at the
New Orleans Author Reader Convention
. The event will be hosted at The Marriott Hotel, 555 Canal Street, New Orleans, LA 70130, (504) 581-1000. For more details visit http://www.authorreadercon.com
Contact
Woods & Associates Management Firm
Eloise Woods
866-862-1932
www.woodsandassociates.net/

Contact