Siborg Systems Inc.'s Smart Tweezers LCR-Reader: A Simpler Way to Test and Troubleshoot Surface Mount Technology and PCBs with Just a Touch
LCR-Reader is the budget model in the Smart Tweezers' LCR-meters line; fully automatic, handheld, digital LCR-meters as an alternative to conventional testers.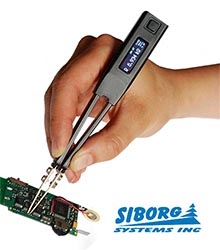 Waterloo, Canada, August 19, 2014 --(
PR.com
)-- The LCR-Reader from Siborg Systems Inc. is the consumer's choice model in the popular Smart Tweezers line of handheld LCR-meters. With just a touch and no-set up required, the device is able to determine the type of component and proper test parameters to provide highly accurate, reliable measurement values, while being available for a low price.
Following the same design as its predecessors, the
Smart Tweezers LCR-meter
line, LCR-Reader offers users a simple way to test and troubleshoot SMT and PCBs without the need for conventional bench testers, long wire probes, or arduous set-up. The sharp gold-plated tweezer tips were designed to gain full contact on small components to a 0201 size or 0.3 mm, either loose or mounted on PCBs. When in contact, LCR-Reader will automatically determine the type of component and the best test parameters and measure for Inductance (L), Resistance (R) or Capacitance (C) while also measuring for secondary values such as the Equivalent Series Resistance (ESR). All evaluation results are then instantly displayed on the small embedded OLED display, including the secondary values, the component type and measurement mode.
The LCR-Reader was designed for non-professionals and hobbyists looking for a device like Smart Tweezers, but without the high price. LCR-Reader retails for less than $200, about half of Smart Tweezers; this price was achievable by omitting some features found on Smart Tweezers, including component sorting, variable test signals and tolerances, and offset subtraction feature. The LCR-Reader also doesn't require annual calibration like Smart Tweezers, this calibration needs to be done annually in order to remain ISO compliant.
Features found on LCR-Reader:
-1% basic accuracy
-Fully automatic L, C, R and ESR evaluations
-Fixed 0.5 Vrms test signal
-1 oz. weight
-One button navigation
-Powered by Li-Ion battery, rechargeable via micro-USB
Siborg Systems Inc. has penned multiple deals to bring Smart Tweezers and LCR-Reader to customers worldwide, with distributors in Canada, United States, Brazil, Russia, United Kingdom, China, Vietnam, Japan, India, Malaysia, and Indonesia. With help from these distributors, customers do not have to wait for shipping or customs from Canada, nor do they have to send their devices back to North America for repairs, maintenance, or calibration. Siborg has also launched regional websites for customers in India, China, Russia, Canada and the US. Siborg also set up an online catalogue with replacement parts (housing, screens, tips, batteries, etc.) for all Smart Tweezers devices, including the LCR-Reader. The Smart Tweezers Blog features all the latest news about Smart Tweezers and LCR-Reader, and the Smart Tweezers Archive features the milestone news since the beginning.
Smart Tweezers are currently used on production lines by many major high-tech companies worldwide, and LCR-Reader is quickly becoming the non-professionals choice for a handheld LCR-meter with high accuracy and speed. The Smart Tweezers line was designed to make working with Surface Mount Technology more time efficient in all applications from production to maintenance or repair.
About Siborg Systems Inc.
Established in 1994, Siborg Systems Inc. is a source of engineering software and hardware tools for the semiconductor and electronics industry. Located in the city of Waterloo, Ontario, Canada, it enjoys being a part of the local world-renowned high-tech community.
For more information:
Siborg Systems Inc.
24 Combermere Cres.
Waterloo, Ontario
Canada
N2L 5B1
Tel: 519-888-9906
Toll Free: 877-823-7576
Fax: 519-725-9522
Web: http://www.lcr-reader.com
Contact
Siborg Systems Inc.
Michael Obrecht
519-888-9906
www.siborg.com

Contact