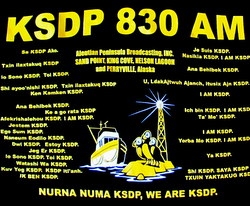 Sand Point, AK, September 04, 2014 --(
PR.com
)-- KSDP 830 AM, a small Public Radio Station off the coast of Alaska, has just launched its project "KSDP 830 AM Free Recording Studio" on Kickstarter.com, a crowd funding web site.
In an Alaska fishing town ravaged by alcohol and drug abuse Manager Austin Roof and Development Director Lauretta MacBeth want to be able to offer their young people alternative opportunities by raising $25,000.00 (Twenty-five thousand dollars) through Kickstarter. They want to create a recording studio that will be free to the children or anyone who wants to cut a CD and yes, that includes you. https://www.kickstarter.com/projects/1217699150/ksdp-free-recording-studio
Just hop on a ferry or a plane to Sand Point, Alaska, population 1000 and you can use the state of the art recording studio free of charge. All they ask is that you teach one person something of value or pay it forward, that is, if the Kickstarter community looks favorably on their $25,000. (Twenty-Five Thousand Dollar) project.
The project is the brain child of KSDP Manager Austin Roof, who is also the town's youth minister, and Development Director Lauretta MacBeth.
Lauretta was the first to air the movie Casablanca, the colorized version, as a fund raising event over KSDP radio. Lauretta, a recording artist herself with her indie CD "Alaska Girls Rock!, realizes that "if you have a song in your heart you need to sing it out loud."
The idea came about when KSDP Intern Matt Bravo 18, shared his original Garage Band recordings. His song is now ranked 4th in the state of Alaska on reverbnation.com
"We have a lot of talented young people in Sand Point and Alaska. We want to give them a chance to get their songs out there. Today, with sites such as tunecore.com, itunes.com, and reverbnation.com, everyone has a chance to be heard," offers Lauretta.
"In rural communities one of the biggest challenges is to provide opportunities for the youth to explore and create using modern tools. This recording studio will be the first of its kind in Alaska, paving the way for others like it. We believe the Kickstarter community shares this passion for innovation and opportunity," cites Manager Austin Roof.
You can listen to KSDP 830 AM at apradio.org and listen to DJ Big Wave Dave Dillard on live stream. For more information contact Lauretta macBeth @ (907) 383-5737 or laurettamacbeth@yahoo.com
KSDP 830 AM
Aleutian Peninsula Broadcasting, INC.
P.O. Box 326
Sand Point, Alaska 99661
(907) 383-5737