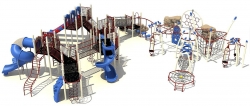 Hennessey, OK, June 30, 2015 --(
PR.com
)-- Hennessey Public Schools' mission/goal is "to give every child an opportunity to grow academically...and to make sure all students have every opportunity to learn." With that, Hennessey Public School's administration came to the conclusion a new, updated playground at the elementary school was a good way to live up to their mission.
Oklahoma based, Noah's Park and Playgrounds has designed a brand new, custom play structure with new safety surfacing for the elementary school. Installation of the play structure and surfacing begins this week.
Company owner, Shan Shepherd, has been working with Hennessey Public Schools Superintendent, Joe McCulley, to bring the school a commercial, ADA compliant play structure to replace the approximately 15-year old wooden play structure, which has already been torn out.
"The old wooden structure had served its purpose for the students of Hennessey all these years. But now we are very excited to install the biggest custom play structure we have designed this year for our neighbors in Hennessey, Oklahoma," stated Mr. Shepherd.
The Noah's Park and Playgrounds' lead designer, Stephen Shepherd, created a structure built specifically for children ages 5-12. The sky blue, brick-red and white large structure is complete with an ADA transfer station, two spiral slides, and three straight sectional slides, all of which connect to do decks ranging up to 8' heights. To encourage physical fitness, Noah's design team added two net climbers, a rope chimney climber, a rock tunnel climber, and a play cluster featuring floating rings, a ring swing, a rope bridge connecting to a horizontal spider web, a snow-flake climber, and three boulder climbers. Additionally, the structure also has a disc traverse, three stand-up spinners, and two groups of lily pad stepping pods added for agility and balance. The custom structure will be complete with ASTM approved Engineered Wood Fiber in an overall safety use-zone of 79' x 75'. The ASTM Safety zone extends a minimum of 6' out from all edges of the structure play events.
Company crews began installation of the custom structure Monday, June 29, 2015, and are slated to finish well ahead of start of the 2015-2016 school year in August.
About Noah's Park & Playgrounds, Inc.
Noah's Park & Playgrounds has provided commercial-grade park and playground equipment, on a national level, to housing communities, schools, churches, daycare facilities, special-need centers, non-profit organizations, city parks, developers, and many more. Noah's Park & Playgrounds provides a vast selection of items from early childhood playgrounds, indoor playgrounds, ADA accessible play pieces, outdoor fitness equipment, sports equipment, and park amenities such as tables, benches, trash cans, bleaches, and shades. Noah's Park & Playgrounds specializes in design and bid consultation, commercial playground installation services and custom playground design services.
For questions and more information about the Hennessey Elementary School playground projects, or Noah's Park and Playground's products and services, please call (877) 248-5444, email us at info@noahsplay.com or visit our website at www.noahsplay.com