Web Site Launch Makes Dental Lab Professional Home Teeth Whitening Kit Affordable
A recently launched web site makes teeth whitening at home a simple, inexpensive process. Now the public have access to the same solution used by dentists.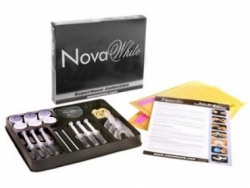 Santa Rosa Beach, FL, December 08, 2007 --(
PR.com
)-- The launch of a new web site gives the public access to the same teeth whitening process used by dental offices, through direct access to a dental lab technician.
Belinda Sinclair, vice president of operations for NovaWhite, has announced the launch of http://www.NovaWhite.com The site provides information and resources for teeth whitening.
"We use a global network of dental labs to bring state of the art teeth whitening systems directly to the consumer. These professional home tooth whitening kits are made by a trained dental lab technician, and they provide the same teeth whitening process direct to the consumer," explained Sinclair.
Consumers can avoid the time-consuming process of going to a dental office for many repeat visits, as well as the high expense. The same process can be used at home saving time and money, according to Sinclair.
The NovaWhite system uses the same carbamide peroxide based whitening gel that dentists use. Consumers can order online, make the impressions themselves, then apply the whitening gel using the dental lab custom trays, at home without impact to busy schedules.
"There really is no reason to have this treatment in a dental office when you can do the whole thing yourself for less than half the cost. We not only provide the whitening treatments, we also provide enough gel for up to a year and a half of maintenance," said Sinclair.
Teeth whitening involves the use of dental bleaching systems that use a whitening solution in a custom-fitted mouthpiece that is worn over the teeth. The whitening gel contains carbamide peroxide, which is the most widely used and most desirable active ingredient in effective dental bleaches.
The custom fitted mouthpiece is made by the dental lab from impressions made by the consumer and sent to the lab. It is an inconspicuous appliance that fits comfortably over the teeth. The whitening solution removes stains by oxidizing them to a whiter color. This process makes the overall tooth color closer to its natural unstained color.
About NovaWhite:
NovaWhite.com. USA headquarters in Santa Rosa Beach, Florida. The company uses a global network of dental labs to bring the same teeth whitening process used in dental offices directly to consumers for home use.
Press Contact:
Belinda Sinclair
866-551-6682 (NOVA)
###
Contact
NovaWhite Professional Teeth Whitening
Belinda Sinclair
8665516682
http://www.novawhite.com

Contact