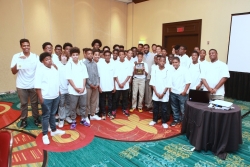 Landover, MD, October 16, 2015 --(
PR.com
)-- On October 5, 75 local golfers participated in The 13th Man Charity Golf Tournament at the Country Club at Woodmore. Players took their best shot at a hole-in-one (on the 9th hole) for a chance to win a 2015 Cadillac Escalade, donated by Jim Coleman Cadillac of Bethesda MD, and more importantly, to help enrich the lives of local youth.
"We're deeply grateful to all of the individuals who participated in the tournament and for the generosity of our sponsors," said Davon Kelly, founder and board chair. "Their support will enable us to empower even more young men to let go of doubt, step into their potential and embark on the path toward an extraordinary and exemplary life."
The 13th Man is a nonprofit organization launched in 2014 to nurture leadership skills in young men ages 12 to 17. Most recently, the organization hosted its annual Summer Classic, a three-day event that featured mentoring and leadership development workshops held at the Greenbelt Marriott. The event was attended by 42 young men and over a dozen business and community leaders who offered tips, tools, advice and encouragement. The leadership event provided thought provoking lessons through a series of seminars that included:
· Conflict Management for 7 to 9th Graders
· Conflict Resolution for 10 to 12th Graders
· Financial Management
· Gentleman 101: Personal Presentation
· Handling Yourself Around Law Enforcement
Davon Kelly is an award-winning entrepreneur, basketball coach and author of "From the Courtside to the Boardroom: A Legacy in the Making." All proceeds from the sale of his book benefit The 13th Man.
On October 18, Kelly will host the cohort group of '13th Men' at Episcopal High School in Alexandria, VA during a varsity high school basketball practice and skill development session. The event is part of The 13th Man's quarterly leadership and mentoring programming. Other activities include:
· December 2015: Holiday Service Outreach Project
· February 2016: College & Career Showcase
· April 2016: Student Government Association Run
· July 2016: Annual Summer Classics
· Ongoing activities include: standardized testing classes, tutorial programs and mentoring
The edited seminars filmed during the Summer Classic are available for download for a five-dollar fee, which supports the organization's programs and activities. For more information about The 13th Man, visit
www.the13thman.org
.