Jennifer Daniel of Princess Chambers Prom Program for Low-Income Teens Talks at Brooklyn Community Services' Brooklyn High School for Leadership and Community Service
Jennifer Daniel's presentation on self-empowerment through proms inspired students at the Leadership Speakers Bureau program at BCS Brooklyn High School for Leadership and Community Service. It is a transfer high school for over-age, under-credited youth ages 16-21. Since she founded Princess Chambers in 2009, over 750 low-income teen girls have received prom gowns, outfits and self-esteem mentoring.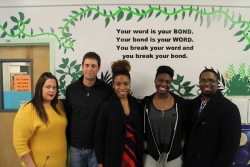 Brooklyn, NY, March 10, 2016 --(
PR.com
)-- Jennifer Daniel, founder of Princess Chambers, told the students at Brooklyn Community Services' Brooklyn High School for Leadership and Community Service (BHSLCS) that the prom is a not just about a young woman getting the glamourous gown—it's also about building self-esteem.
"The princess makes an entrance after she leaves her chambers," she explained to the students at school's Brooklyn Leadership Speakers Bureau program. "I think your life is just beginning after the prom."
Since the Crown Heights resident launched her nonprofit in 2009, Princess Chambers has donated prom outfits to over 750 low-income teen girls. In addition, Daniel has also mentored the young women on making wise decisions on prom night regarding safety, sexual conduct and substance abuse.
"I think one of the biggest things is just believing in you," she said. "How you see yourself is how you're going to be seen."
Daniel developed this stylish nonprofit when the St. John's University grad was an insurance broker. She wanted to be a social entrepreneur and recalled the sacrifices her single mother made to ensure she was able to attend her prom. Princess Chambers provides free prom dresses, shoes, and accessories so young women can feel confident and elegant during their special rights of passage. Each teen is selected and referred to Princess Chambers by their guidance counselor or youth program director, based on academic success, financial need and self-esteem assistance. Princess Chambers has volunteers and is creating a peer mentoring program.
Although BHSLCS does not have a prom, students were enthralled by Daniel's messages from self-esteem to being a social entrepreneur. "You need to tap into your network. You might have friends with skills that you don't have. It's important to ask for help," she explained. "If you have an idea, do it anyway. If you failed, at least you did it."
"I want students to be inspired to dream big and live out their purpose," she explained.
"Jennifer was very inspiring. It was amazing to see the interest in our students' faces," said Angela Chiappara, Program Director at BHSLCS. "Already, several of our young women are interested in volunteering and interning with Princess Chambers."
BHSLCS is a joint venture between the New York City Department of Education and BCS. Based in Clinton Hill, it's a transfer high school for over-age, under-credited youth ages 16-21 who have either fallen behind in high school or dropped out. BHSLCS has a student-centered, challenging and personalized education that empowers young people to be fully participating community members, leaders and lifelong learners. Students earn a Regents diploma and are encouraged to transition to either college or a career.
The Brooklyn Leadership Speakers Bureau recruits a diverse range of successful and dynamic speakers to visit the school and talk with students about their careers, life journeys and lessons learned. "Jennifer Daniel is a great example of the energetic, dynamic and inspirational success stories that the program brings to the school on a regular basis," said attorney and BCS board member, Steve Williamson, founder of the Brooklyn Leadership Speakers Bureau. He works with Brooklyn Leadership school staff Stacey Fischler and Angela Chiappara to coordinate and produce the speakers' programs. Previous speakers have included: Honorable Sylvia O. Hinds-Radix, Associate Justice of the New York State Appellate Division; Tracy Inman, Co-Director of The Ailey School at Alvin Ailey American Dance Theater; Jocelyn Cooper, co-founder of AfroPunk, a multicultural music festival; Geo Derice, motivational speaker and author The Thirst is Real: The Teen's Guide to Maximizing Your True Potential and Noah Brie, CEO of technology company Percolate.
"We're looking for speakers in our continuing effort to inspire, educate and broaden the dreams and horizons of our students," said Williamson.
For more information on the Princess Chambers 2016 Prom Dress Drive, contact info@princesschambersinc.org. To contact the Speakers' Bureau at Brooklyn Leadership, contact Steve Williamson at 516-321-9481 or steve@nytrialesquire.com
In Photo: (L-R) teacher Stacey Fischler, Steve Williamson, Jennifer Daniel, student Jasmine Bullock and author Geo Derice
Photo Credit: Jelani Thomas
About Brooklyn Community Services
Brooklyn Community Services (BCS) celebrates the strength of the human spirit. Our mission is to empower at-risk children, youth, adults and families through comprehensive and holistic services: early childhood education; youth development services and educationally rich after-school programs; counseling for at-risk families; treatment, recovery and job training to support the life goals of adults living with mental illness; person-centered rehabilitation and community living support for adults with developmental disabilities and disaster recovery case management and relief services. With a staff of over 400 and 20 sites around the borough, BCS serves 12,000 people every year. Today, BCS is one of the oldest not-for-profit, non-sectarian social service providers in New York City. In 2016, BCS celebrates our 150th anniversary in ensuring the opportunity for all to learn, grow and contribute to ONE Brooklyn Community. Join the conversation with Brooklyn Community Services at www.wearebcs.org, FACEBOOK, Twitter and Instagram at @wearebcs
Contact
Brooklyn Community Services
Fern Gillespie
718-310-5774
www.wearebcs.org

Contact