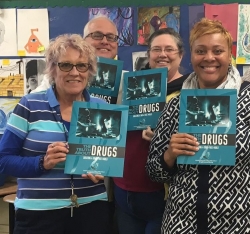 Los Angeles, CA, February 16, 2016 --(
PR.com
)-- With violent crime on the rise in Los Angeles, the Church of Scientology Community Center of South L.A. has doubled down in making drug prevention a top priority.
The Church is offering free training and drug education materials to educators, community groups and mentors to help them tackle drug abuse and addiction.
One educator who was trained on the program found it the perfect fit for at-risk youth. "By providing high quality video testimonies from former dealers and addicts, a convincing reality of the drug culture is captured in the minds of viewers regardless of one's age," he said. "The curriculum guide's lesson plans and fourteen specific drug booklets, keep the lessons orderly and on a steady pace. Any educator, counselor or case manager can use it immediately and effectively."
In his October 2015 proclamation in honor of Drug Prevention Month,
President Obama
stated, "Alcohol and drug use can stand in the way of academic achievement, jeopardize school safety, and limit a young person's possibilities. Additionally, thousands of Americans die each year from prescription drug overdose... By talking with our sons and daughters early and often about the dangers of drug and alcohol use, we can help set them firmly on a path toward a brighter future."
The
President's Drug Control Strategy
"promotes the expansion of national and community-based programs that reach young people in schools, on college campuses, and in the workplace with tailored information to help them make healthy decisions about their future." And it points out that "recent research has concluded that every dollar invested in school-based substance use prevention programs has the potential to save up to $18 in costs related to substance use disorders."
The Church of Scientology Community Center is located at 8039 S Vermont Ave, Los Angeles, CA 90044. Anyone wishing to receive drug prevention training and materials should contact the community center at (310) 419-8230.