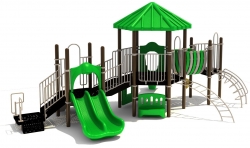 Austin, TX, March 28, 2016 --(
PR.com
)-- Lockhart ISD strives to graduate all of its students as "citizens who are educated, productive, and self-fulfilling lifelong learners." With the number of students increasing at Lockhart ISD, the board decided to design the new elementary school to allow for the expansion of 700 students to the district. Through a long bid process during 2015, Lockhart Independent School District chose Noah's Park & Playgrounds to design the two exciting playground structures, and other components for their newest elementary. The scope of this project consists of equipment for two age-specific playgrounds and two basketball goals at the new school. One of the two play areas will be for Pre-K - 1st grade students, and an additional play area for 2nd - 5th grade students.
The Pre-K - 1st grade rainforest green, brown and tan, custom playground structure consists of an ADA transfer station, wavy double bed-way slide, wavy straight slide, rock climber, rail arch climber, angled rail climber, bench panel, store front panel and captain's wheel. To complete the structure, Noah's will also be installing a 4-foot free-standing wave slide to match the playground structure as well as 3-bay, 6-swing frame with six tan swing belt seats. Other independent equipment for the Pre-K - 1st grade play area are the Tommy Truck spring rider, the Bumbling Betsy double spring rider and the Rockwell Teeter Duo spring rider.
The 2nd - 5th grade play structure features a good blend of activities to engage children on physical, mental, and social levels. But, most importantly, it's very colorful and super fun! This red, rainforest green and tan custom play system comes complete with an ADA transfer station, two curve slides, a double bed-way slide, deck-to-deck side climber, cyclone climber, arch bridge, deep rung arch climber, end access ladder, overhead wheels, lily pads, double bongo drums and bench panel. To complete the 2nd - 5thgrade play area, Noah's will be adding a 4-bay, 8-seat swing frame with tan swing belt seats as well as a super dome and two basketball goals.
Teachers and parents were not forgotten as Lockhart ISD also chose additional seating for them, consisting of five 6-foot benches being installed around both new play areas. For safety and ADA accessible purposes for both play areas, Noah's will be adding engineered wood fiber surfacing, border timbers as surfacing containment, and a full ADA ramp system package for wheelchair access to each play area.
Noah's Park & Playgrounds' CPSI certified installation crew will be building both playgrounds, and all components, this summer before the 2016 Fall school year begins.
About Noah's Park & Playgrounds, Inc.
Noah's Park & Playgrounds has provided commercial-grade park and playground equipment, on a national level, to housing communities, schools, churches, daycare facilities, special-need centers, non-profit organizations, city parks, developers, and many more. Noah's Park & Playgrounds provides a vast selection of items from early childhood playgrounds, indoor playgrounds, ADA accessible play pieces, outdoor fitness equipment, sports equipment, and park amenities such as tables, benches, trash cans, bleaches, and shades. Noah's Park & Playgrounds specializes in design and bid consultation, commercial playground installation services and custom playground design services.
For questions and more information about the Alma Brewer Strawn Elementary playground project, or Noah's Park and Playground's products and services, please call (877) 248-5444, email us at info@noahsplay.com or visit our website at www.noahsplay.com.