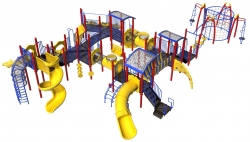 Sand Springs, OK, April 11, 2016 --(
PR.com
)-- Per a bid process selection in February 2016, Sand Springs school administration selected a large brick-red, pacific-blue, and sunglow yellow, custom playground structure designed by Noah's Park & Playgrounds. This new structure will augment existing outdoor recreational equipment for the Pratt Elementary students. The play structure, suitable for ages 5-12 years, will provides engaging activities for all Pratt Elementary students for many years.
The custom play structure offers high play value with its many components including a single spiral slide, curve tube slide, double bed-way slide, single straight slide, and a triple slide, totaling 8 slides on one playground structure. Other high-level play value components include a rock climber, arched rock wall, spiral climber, net tube climber, curved rock wall climber, two clear crawl tubes, a bean stalk climber, a bone bridge, lily pads, two spinners, ladder climber and a 360 degree cargo net hub.
Along with the play structure, Sand Springs school administration wanted to focus on providing a more inclusive play environment for Pratt Elementary students. They added an ADA compliant and wheelchair accessible, Sway Fun® Glider, a perfect addition for an inclusive playground. For additional playground safety, the administration added safety surfacing and plastic border timbers for safety surface containment.
Noah's Park & Playgrounds' CPSI certified installation crew has been contracted to remove and reinstall currently existing equipment at Pratt Elementary in a different play area of the school. Noah's crews will then construct the new playground to be ready for the 2016 Fall school year.
About Noah's Park & Playgrounds, Inc.
Noah's Park & Playgrounds provides commercial-grade equipment, on a national level, to elementary and middle schools, churches, daycares, special-need centers, non-profit organizations, city parks, developers, housing communities (HOA's) and more, with a vast selection of items for early childhood play, indoor playgrounds, ADA accessible pieces, and sport-goal equipment. Noah's also provides commercial-grade park amenities such as commercial grills, shades, tables, benches, trash cans, and bleachers, along with ASTM safety surfacing options of engineered wood fiber and rubber mulch, artificial grass and poured-in-place surfacing. Noah's is proud to offer newer, trending park equipment such as outdoor exercise or fitness trail equipment, and popular style disc golf baskets for public courses. Noah's is proud to offer commercial-grade music instruments for the latest trend in outdoor fun - music parks. Newer equipment items, such as exercise equipment or music instruments are gaining popularity with resorts, city parks and festival locations, as well as other types settings from schools to hospitals. Noah's Park and Playgrounds' specializes in design and bid consultation, park planning, commercial playground installation services and custom playground design services.
For questions and more information about the Pratt Elementary School playground project, or Noah's Park and Playground's products and services, please call (877) 248-5444, email us at info@noahsplay.com or visit our website at www.noahsplay.com.