New Children's Book Inspired by Theater-Loving Squirrel
ASD Publishing announces release of children's book author Gregory G. Allen's third book, "Irving the Theater Nut!" that celebrates theater, chasing dreams, and teamwork.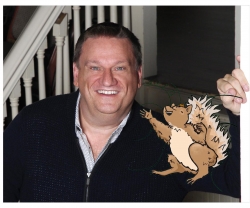 New York, NY, September 08, 2016 --(
PR.com
)-- ASD Publishing is thrilled to work with children's book author Gregory G. Allen on the release of his third book, "Irving the Theater Nut!" (ISBN: 9780996102933, Release date October 10, 2016) that celebrates theater, following dreams, and teaches teamwork.
Two and a half years ago, when Gregory G. Allen started a new job as the theater manager of the historic Town Hall Theater in Irvington, NY, he had no idea he would meet the inspiration for his third children's book. A squirrel had gotten into the theater and was quickly removed, but Allen went home that night and wrote an outline about a squirrel that loved theater.
"Irving the Theater Nut!" tells the story of a squirrel who wants nothing more than to join the children rehearsing inside the theater and be a part of that theater world. Many theater kids may feel they are different because of that love they have for the arts, but Allen hopes that his picture book, with illustrations by Morgan Swofford, will show kids of all ages that being a lover of the arts is nothing to be ashamed of. It also teaches subtle lessons of teamwork, encouragement, and collaboration.
Allen has been in the entertainment industry (television, film, stage) for over 25 years as an actor, director, writer, and producer, and is an award-winning author of a dozen books and stories (including two children's books on autism awareness carried by Houghton Mifflin Harcourt in digital format); ten shows that he has served as book writer and/or composer/lyricists have been produced on stage (Theater Week Magazine Best Score Winner).
New York City theater critic and author of "Let's Put on a Musical," Peter Filichia, calls Irving an endearing book and says, "Parents, Gregory G. Allen's 'Irving the Theater Nut!' is the book you'll be reading to your children at bedtime for the foreseeable future. Who doesn't love a story in which a child is nice to an animal and have that animal return the favor?"
"I started my career in children's theater writing my first stage musical when I was only 14 and then toured in children's theater as an adult...including three years as a Teenage Mutant Ninja Turtle," says Allen. "To finally write a book for children about the love of theater...it's everything to me!"
As a freelance director and script writer, Allen has worked for Broadway Live; a media company specializing in original programming for the New York Theater scene. He has contributed to several online sites (interviewing many stage performers) including Huffington Post, Broadway Voice, and Broadway World, has penned the screenplay for a feature film, and is the winner of the 2015 Indie Soul Best Director Award from the Boston International Film Festival and Best Director at the Los Angeles International Film Festival Awards in April 2015 for his short film "Mother."
"I've always been a theater nut so you might say that Irving is a part of me," says Allen. "I can't wait for the world to meet this little fellow and learn that there is nothing wrong with chasing a dream...no matter how old you are or different you may feel."
The book will be available in print from all online retailers as well as indie bookstores across the country. The book will launch at the Drama Book Shop at 250 W 40th Street in New York City on Monday, October 10 at 5pm. To see additional signings and events, please check out Allen's website at
www.gregorygallen.com
ASD Publishing, a division of ASD Media & Entertainment, is an independent book publisher based in New Jersey, specializes in thought-provoking literary fiction, memoir, self-help nonfiction, and children's books that champion personal growth and the independent spirit. www.asdpublishing.com
Photo by Tom Schopper
Contact
ASD Media & Entertainment
Anthony DiBella
973-280-0145
www.asdpublishing.com

Contact