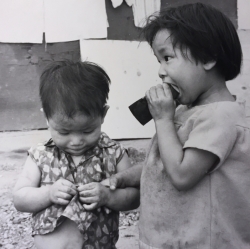 Boston, MA, February 11, 2017 --(
PR.com
)-- Americans are now turning to books about the Vietnam War along with documentaries and even live theater for insight into contemporary foreign policy, veterans' issues, and U.S. treatment of today's refugees - the most vulnerable victims of war.
Interest in a 40-year-old war that divided a nation back then accounts for the popularity of current literary offerings on Vietnam - among them "The Sympathizer," "Tribe," and the newly published, "Escape from Saigon - a Novel."
Recent films, TV documentaries and theatrical productions offer further understanding of the Vietnam War.
Vietnam War refugee Viet Nguyen's 2016 Pulitzer Prize winning novel, "The Sympathizer," shines a harsh light on conflicted allegiances and an America-centric view of foreign conflicts. The "Sympathizer" stands out as an allegory for today's new nationalism and fear of the other. Nguyen's companion book, "The Refugees" further examines the complexities and conflicts of leaving ones native country for a new home in America.
Though not strictly a Vietnam War book, "Tribe: On Homecoming and Belonging," by Sebastian Junger, explores the plight of returning combat veterans by likening the military to tribal societies where individuals share loyalty, a common purpose and depend on one another for survival.
Junger argues that post traumatic stress may stem partly from the loss of community veterans face as they try to adjust to civilian life. When a 22-year-old Army sergeant, who has made life-and-death decisions as leader of a four man-squad in combat, comes home to be surrounded by people who know nothing of his experience the loneliness sets in and becomes overwhelming.
Published in 2017 by Skyhorse Publishing, New York:
Escape from Saigon - a Novel
by Michael Morris and Dick Pirozzolo looks at how the Vietnam War shaped contemporary American attitudes in a fast-paced fictional account that compresses the action into the final 30 days of that war. While the action takes place in a single month, the authors - both Vietnam veterans - put the endgame in context through flashbacks, old news accounts and barroom ramblings about the decisions and politics that set the stage for war.
As the novel recounts the events of April 1975, it focuses on lives of the ordinary people buffeted by the political bungling of the powerful they encounter. Among them are Vietnamese and American civilians, journalists, French expatriates, U.S. Embassy staffers and CIA operatives, all seeking escape by any means possible as the North Vietnamese Army tightens its stranglehold on Saigon - a city once known as the Paris of the Orient. Indeed, the final scenes recount the courage of hordes of Vietnamese refugees and the aviators and sailors who helped them in the biggest air-sea rescue in history, and an America that welcomed these refugees with open arms.
The story often centers on the journalists who covered what was dubbed America's first television war. "Correspondents back then devoted their youth to covering Vietnam, often for a decade or more and shaped public opinion through vivid TV pictures and newspaper exposés. The novel's strong female lead Lisette Vo is NBS-TV's first Vietnamese-American war correspondent who foreshadows the rise of women in journalism and the advent of 24/7 cable news. Her developing romance with the hard-hitting Sam Esposito of The Washington Legend evolves over the course of the novel," observes coauthor Dick Pirozzolo, a former U.S. Air Force press officer in Saigon - renamed Ho Chi Minh City after the war.
Access to news and information was far more primitive In 1975 than it is today. "There were only three networks, whose anchors were trusted, larger-than-life figures Americans invited into their living rooms. The evening news was appointment TV and America watched and read essentially the same news - a far cry from today's media environment with fragmented cable TV audiences and fake Internet news outlets. The technology has improved, but with it Americans lost its sense of community," adds Pirozzolo.
Pirozzolo joined the Worcester Telegram & Gazette after Vietnam and later founded a communication consulting firm in Boston, Massachusetts. In the mid-1990's he played a prominent role in Vietnam reconciliation and trade and remains active in foreign policy affairs as a member of the editorial board of Boston Global Forum, a think tank affiliated with Harvard University.
Co-author Morris, an Army combat veteran now living in Savannah, Georgia, returned from Vietnam to earn a degree from Columbia University Graduate School of Journalism and went on to an illustrious career with USA Today and some of the nation's leading magazines TIME, Sports Illustrated, Wired and Popular Science.
In addition to the latest literature on the Vietnam War, "Miss Saigon" will be reprised on Broadway in March and simulcast to local movie theaters in HD to reach a nationwide audience. Lana Noone's new play, "Children of the April Rain" about Operation Babylift, the ill-fated evacuation of mixed-heritage children during the last days of the Vietnam War is opening around the country. Rory Kennedy's film and Ken Burns latest PBS-TV documentary add to the contemporary offerings on the Vietnam War.
"Escape from Saigon - a Novel" was published in January of 2017 by Skyhorse Publishing, New York, NY, 264 pages and lists at $24.95. Further information and an excerpt are available at: www.escapefromsaigon.com.