53,000 Convened in 148 Venues Across the World to Celebrate Women Of Aviation Worldwide Week 2017
The Institute for Women Of Aviation Worldwide (iWOAW) recaps the activities that took place as part of 7th annual Women Of Aviation Worldwide Week (March 6-12) and announces the winners of the associated Fly It Forward® Challenge. Albuquerque Sunport, USA, wins the Most Female Pilot Friendly Airport Worldwide title. Lachute and Brampton-Caledon airports, both in Canada make the podium. Other titles go to winners in the United States, Canada, France, Australia, and Turkey.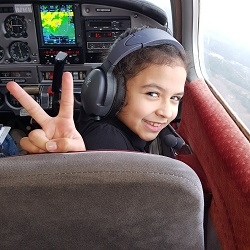 Vancouver, Canada, March 30, 2017 --(
PR.com
)-- As part of the 7th annual Women Of Aviation Worldwide Week (March 6-12), a broad range of aviation and space related activities specifically designed to engage and inform women and girls took place in 148 venues scattered across Africa, Asia, Europe, America, and Oceania.
53,000 jumped at the opportunity to visit local industry facilities, attend multi-faceted events, meet female role models, try various skills, hands-on, and check out static aircraft displays. Nearly one-fifth of the attendees 9,056 to be exact, went on a Fly It Forward® flight – an introductory flight for women and girls who have not previously flown on any small aircraft.
The Week powered by the Institute for Women Of Aviation Worldwide (iWOAW) aims to address the air and space's industry deeply rooted gender imbalance by inviting girls of all ages to discover the industry's careers and hobbies within a welcoming environment and familiarizing them with women's past and present contributions.
Studies and iWOAW's annual feedback surveys show that women and girls are unlikely to consider the industry's technical careers traditionally presented as men's jobs without an explicit invitation to do so.
Since 2010, iWOAW's Fly It Forward® Challenge and Women Of Aviation Worldwide Week initiatives have successfully changed perceptions. For more than 80% of nearly 200,000 participants to date, the impact went beyond a perception shift; it was life changing. In fact, 64% are now considering a career or hobby in the industry.
"My 11 yr old has wanted to go into the medical field," reports Alicia Pino who was on a Fly It Forward® flight with her two daughters in Albuquerque, NM, USA. "Now, she is dead set on becoming a pilot for the hospitals."
Simultaneously reaching out to thousands of women and girls without age or affiliation restrictions is a staple of the WOAW movement. Each year, iWOAW awards titles and trophies to individuals and organizations who excel at materializing its goals of engaging as many women and girls as feasible and offering them a quality experience.
Del Sol Aviation & Cutter Aviation in Albuquerque, NM, USA, hosted a week-long event featuring multiple educative activities, a significant static aircraft display, and Fly It Forward® flights. No participating airport anywhere in the world introduced more women and girls to flying than Albuquerque International Sunport did. It wins the 2017 Most Female Pilot Friendly Airport Worldwide title. Runner ups in the airport category are the Lachute Airport, QC, Canada and the Brampton-Caledon Airport, ON, Canada.
Throughout the Week, Fly It Forward® pilots loaded up their aircraft with women and girls to give them a chance to experience flight. They flew paragliders, ultralights, airplanes, and helicopters for more than 900 hours collectively. To win any of this year's pilot awards, pilots had to take off and land at least 20 times.
Nobody flew more girls of any age than helicopter pilot, Dianna Stanger. She completed more than 180 flights over seven days and introduced 925 women and girls to flying in Albuquerque, NM, USA. She wins the 2017 Most Dedicated Female Pilot Worldwide title. But that's not all; she also inspired other female pilots based at the airport to excel. First and second finalists in the category are Albuquerque pilots, Bobbie Lind and Susan Larson.
Meanwhile, Sylvain Cantan of Bozas, France, flew his ultralight almost non-stop for two days to win the 2017 Most Supportive Male Pilot Worldwide title. The podium also features Yves Barbeau of Lachute, QC, Canada, and Bernard Chirol of Étables, France.
The leaders who choose to rally their communities and empower women and girls during the Week are priceless. Investing upward from 200 hours of their personal time, they are the ones who bring amazing experiences to life.
Hosting a one-day event including a fully fledged conference, many industry booths, activities spanning across two airports and coordinating as many as 170 flight introductions per hour, Marguerite Varin of Lachute, QC, Canada is this year's Most Productive Organizer Worldwide in the flying event category. Her counterpart in the non-flying event category is Terri Donner of Louisville, KY, USA, who coordinated a massive girl scout event with the help of her Ninety-Nines chapter and the local Association for Women in Aviation Maintenance chapter.
Size is important but so is quality. iWOAW recognizes events with 50 or more attendees that deliver the highest reported level of satisfaction. Emma Bowley of Temora, NSW, Australia, hosted the flying event with the highest feedback ratings this year. She wins the Most Acclaimed Organizer Worldwide title in 2017 for that category. Vasif Yuceliş who spearheaded a series of non-flying events in Antalya, Turkey, wins the title in that category.
"What started in 2010 with just over 1,600 Fly It Forward® flights has grown to directly touch the lives of 53,000 within just one week span," says Mireille Goyer, iWOAW Founder and President. "It is mind-boggling and very encouraging. We are on track to change the face of aviation."
World record helicopter pilot Jennifer Murray will help remit the trophies to the winners at the Fly It Forward® Award Luncheon during iWOAW's upcoming Symposium in Vancouver, BC, Canada, May 24-26.
Next year's Women Of Aviation Worldwide Week will unfold from March 5 to 11. The theme will be "Speed Demons. 65 Years of Supersonic Women," as a salute to Jacqueline Cochran's 1953 supersonic flight onboard a borrowed Royal Canadian Air Force Sabre jet.
For more information, please visit the Week's official website at www.WomenOfAviationWeek.org
Contact
Institute for Women Of Aviation Worldwide (iWOAW)
Mireille Goyer
604-259-9763
iwoaw.org

Contact