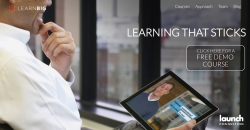 Bellevue, WA, April 18, 2017 --(
PR.com
)-- Launch Consulting has acquired LearnBIG, increasing its capacity and reach in customer experiences with video-based services.
LearnBIG is an innovator in inspirational educational, training and marketing content with local clients such as Microsoft, Savers, Harley Marine Services, and T-Mobile, and more widely such as HBO, Axon, and a large online university. Their work includes cybersecurity awareness, leadership development, diversity and inclusion, and content for the marine, energy and education sectors.
"We've collaborated with the LearnBIG team since 2013 and admired their high-production value approach to video content," Wud Pocinwong, Launch CEO, commented. "We're all excited that they've joined Launch to extend the services we can provide our clients."
Leslie Redd, former LearnBIG CEO, said a key reason for joining Launch was the ability to apply the company's skills to a broader set of clients and service offerings, as well as the cultural fit. "LearnBIG's expertise in video production, storytelling, UI/UX, CX and instructional design are a nice complement for Launch's Customer Experience offerings. And our teams have partnered on work over the years so we already knew we worked well together."
Leslie brings strategy, business development, marketing, customer experience and leadership development to her new role as a Director at Launch, where she also will continue to provide her deep subject matter expertise in in education and training.
Get a free demo at
https://learnbig.com/
or e-mail
makeitfly@launchcg.com
.
About Launch Consulting
Launch is a veteran-owned and operated technology firm that helps people and businesses go further and grow faster. Accelerate your ROI with business consulting; BI & analytics; cloud, operations & support; customer experiences; software solutions and highly skilled role-based consulting. For more information, visit
www.launchcg.com
or e-mail makeitfly@launchcg.com.