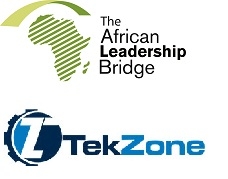 Austin, TX, June 13, 2017 --(
PR.com
)-- African Leadership Bridge (ALB) and Group TekZone (TekZone) have entered into a partnership to equip, train, develop and enable Sub-Saharan African youth to create local solutions to local problems. ALB has successfully sponsored and mentored a number of African students through undergraduate programs in the US. This partnership allows ALB to leverage the infrastructure and services provided by TekZone to extend and scale this effort and impact to those located on the African continent.
This symbiotic partnership will allow both organization to provide unprecedented access to tools, training and mentoring necessary for African youth to solve local problems through the use of Technology.
"We are excited to begin our partnership with TekZone, as it fully supports our key tenet of enabling the next generation of African leaders and entrepreneurs through education. As ALB announced earlier this year, we are pivoting to working directly in Africa, where we feel we can have a faster impact, and we can make our donor dollars go farther." -Suresh Sundarababu, ALB Board President
As a result of this partnership, 2 students will receive full scholarships from ALB to participate in the 15-week long Robotics Training offered by TekZone in Cameroon in summer 2017. Each student will learn industrial automation skills necessary to integrate industry and receive tools and knowledge necessary to prototype technology-based solutions to local challenges.
"Our goal with this training is to expose students to relevant technologies, train them on how to use it to solve problems, expose them to design best practices, and send them home with a kit so they can continue prototyping solutions as they encounter problems. We are looking forward to expanding on our partnership with ALB to put more tools in more capable hands."- Serges Lemo, CEO Founder of TekZone.
About the African Leadership Bridge
The African Leadership Bridge (ALB) is an innovative nonprofit organization that provides scholarships to promising young African leaders. Joining ALB means more than just receiving a scholarship. We treat our students as part of our family and mentor them through the college experience, ensuring that they build the skills and relationships that will enhance their chances of making a significant impact after graduating. We believe that this experience will prepare these future leaders to tackle important issues with a unique perspective, contributing to the creation of an Africa in which all citizens have an opportunity to realize their full potential.
www.africanleadershipbridge.org
About Group TekZone
Group TekZone offers African innovators, makers and SMEs the opportunity and resources to design, prototype, test and market their own solutions. We partner with academic institutions and multinational companies to provide local access to a network of tools, expertise and training to drive innovation and build successful technology-based businesses. Our vision is for every student, maker, enthusiast, engineer & scientist in Sub-Saharan Africa to have local access to the necessary technologies to innovate and solve local problems. To deliver on this vision, we equip each of our centers design and prototyping tools such as 3D printing, machining equipment and necessary software though a membership-based model which significantly lowers costs. We complement this access with training on tools as well as a 360-incubation to help shape future local business leaders.
www.tek.zone