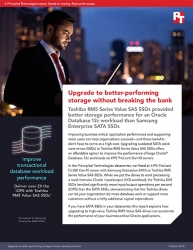 Durham, NC, October 22, 2018 --(
PR.com
)-- Improving business-critical transactional database application performance and supporting more users doesn't have to break the bank. Rather than purchasing additional servers with SATA SSDs, companies can simply choose to outfit their servers with new value SAS SSDs.
Through hands-on evaluation, Principled Technologies (PT) quantified the performance boost that organizations can see by choosing Toshiba RM5 Series Value SAS SSDs over Samsung Enterprise SATA SSDs for HPE ProLiant DL380 Gen10 servers. PT set up Oracle Database 12c databases for each SSD solution and ran a tool that generates a heavy workload on these databases and uses a performance metric of input/output operations per second (IOPS).
According to the report, "The Toshiba RM5 Series Value SAS SSDs delivered more than double the storage operations per second of the Samsung PM863a Enterprise SATA SSDs. Faster storage means more users can access data with fewer delays, which can lead to more sales and more happy customers."
To learn more about the results of this study, read the report at
http://facts.pt/yoxd03
or check out the infographic at
http://facts.pt/w3d9r0
.