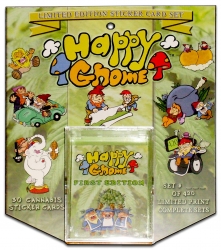 Camas, WA, November 21, 2017 --(
PR.com
)-- A pair of friends from Camas, Washington and Toronto, Ontario, Canada have combined their creative talents and love of cannabis into a new sticker card collectible called Happy Gnome, printed by Zelpha Comics. This set features the first known attempt to fuse a cannabis-like scent within collectible cards.
There are some brands of trading cards already on the market that feature the numerous strains of cannabis available. Most simply feature real pictures of the strains and information on their effects. However, Happy Gnome takes a different approach. Each cartoony card portrays a highlighted strain of cannabis in an outlandish literal sense. As an example, The Blueberry Strain card shows multiple blueberries smoking joints with gnomes. The Elephant Strain card shows a gnome playfully using the trunk of an elephant as a bong. The 30 cards in the first Happy Gnome set stars a family of cartoon gnomes who tour the world, history and the universe to try all 700+ known strains of cannabis.
What truly sets Happy Gnome apart from other card sets and cannabis collectibles on the market is its "cannabis-infused" scent feature. Each Happy Gnome set has the aroma of marijuana. The creators won't say how they infused the cards with the scent, but they stress there is no physical cannabis or THC in or on the cards.
Creators George Leon (of Camas) and Luanga Nuwame (of Toronto) are both regular recreational users of cannabis and they frequently speak on the phone about how cannabis enriched their lives during their "dark depression" years. George is a Navy veteran suffering from PTSD after serving in Operation Desert Storm and an especially traumatizing tour of duty in Somalia in the 1990s. Luanga grew up with crippling self-esteem and depression issues from his teens into his late 20s and he attempted suicide twice. After meeting via a You Tube video Luanga uploaded in 2011, both men from two different backgrounds on either side of the 49th parallel developed a close friendship. That friendship included sharing stories on how cannabis helped them deal with their past and present personal issues. Their collaboration on Happy Gnome is meant to reflect their positive views on cannabis while showcasing the physical and mental benefits of cannabis with others who appreciate the medication.
Happy Gnome is currently being crowdfunded on Indiegogo.com to complete the first 30-card cannabis scent infused sticker set. The campaign has a modest goal of $1,250 to complete 420 first print sets. The campaign found at https://igg.me/at/happygnome begins on November 20th and ends a day before Christmas.