Florida Company on a Triple Bottom Line Social Impact Mission in Agriculture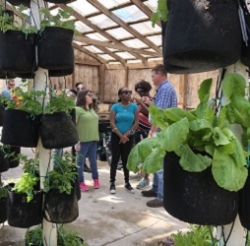 Indiantown, FL, March 28, 2018 --(
PR.com
)-- Growmor, LLC is a newly formed sustainable agriculture and education company in Florida on a social impact mission. Not only does Growmor seek to bring flavor and variety back into your diet they also seek to empower the under-utilized through Agrication - agricultural education. They say their plan is good for the environment, good for people and good for the bottom line.
Growmor has established a corporate headquarters in Indiantown, Florida - one of the top agricultural centers in the United States. On the 18 acre site, Growmor will train people with special needs or who are under-utilized about urban farming and sustainable agriculture. Over the past three years, the site has been cleaned up, 4 greenhouses were donated and a fully functioning commercial kitchen, classrooms and a farmer's market have been created.
Greg Flewelling, a partner in Growmor said, "We have created a hands on practical curriculum, to support and empower people with special needs or who are under-utilized, to learn about urban farming and agriculture. We have established our own Educational facility to provide teachers and students, from around the world, the skill sets they need to train others in their local environment wherever that may be.
"We grow food that you may have never eaten before. We custom grow for high end restaurants and provide the rare ingredients chefs need to make signature dishes. We seek to expand food horizons and flavors in ways that excite not bore. You may have never heard of us before now but you may have tasted us in some of the best meals you have ever had. The kids love it and this is our legacy project for them."
"People with special needs can be great farmers provided they are given the skill sets needed in a practical way," said Jonnie Flewelling. "Unlike many kids today who do not want to be left out of anything, our students take great joy being included, being productive and being enabled and empowered. To see a child who has not spoken or shown any emotion and bring them here and their face lights up when their little fingers go in the dirt and they light up when they see the animals and their first word is Horse! Horse! - it leaves you breathless and often times in tears."
Amy Agricola, who has a child with special needs said, "These are our dandelions and we will teach them the miracle of growing great food and like the dandelion they will blow across the world and wherever they land something beautiful and magical will bloom. I've seen it with my daughter Kelsey and it is truly amazing."
For more information, please visit us at http://Growmor.Farm or on Facebook at https://www.facebook.com/GrowmorFarm/
Contact
Growmor
B C Donnelly
352 620 8444
http://growmor.farm

Contact