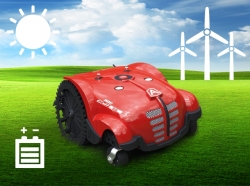 Barrington, IL, April 04, 2018 --(
PR.com
)-- The success of robot lawn mowing in Europe leaves many scratching their heads about why robot mowers have not taken off in the USA, even though autonomous electric lawn mowers have been for sale in the USA and Canada since 2005. The European sales projection is 500,000 units by 2020.
One theory is that Hollywood has done such a great job of demonizing robots that a significant "fear factor" exists in the minds of consumers.
Paradise Robotics, USA & Canada Distributor of the Ambrogio Robot mower (manufactured in Italy), intends to change this perception by obtaining high-profile Hollywood representation. Product placement of Ambrogio Robot in movies, television shows and commercials is desired. Paradise Robotics also advocates for a lead role in an animated feature film.
Kathy Moseler, President of Paradise Robotics and also known as "The Robot Lady" said, "A partnership with Hollywood that aims to change the perception of robots by the American public will go a long way toward eliminating the loud and annoying gas engines that pollute and destroy the environment. Ambrogio Robot mowers are all-electric. They are extremely quiet in operation. Since they maintain grass at a consistent height always - lawns stay mowed, therefore beautifying public spaces and homes."
Robot mowers are incredibly fun and appealing to all ages, and they are especially attractive to the key 18-35 demographic. Here are a few concepts Hollywood can use when incorporating Ambrogio Robot in movies and television shows: 1) Characters of a TV sit-com use Ambrogio Robot as a "marshmallow shooter" target; 2) Mount a camera on top of Ambrogio Robot for new and interesting shooting angles; 3) Make Ambrogio Robot the star of a new animated feature entitled: "Moe - Climate Change Warrior" - about a robot mower that recruits an army of robot mower soldiers to attack and replace gas mowers for the greater good.
Moseler said, "Ambrogio Robot is the only robot mower that meets Hollywood's standards for beauty and excellence. Ambrogio Robot is the only robot mower suitable for a walk down the red carpet. We welcome the opportunity to work with Hollywood on driving change in the USA that will ultimately help save the planet."
Ambrogio Robot Web Site:
www.ambrogiorobot.com/en-us
Paradise Robotics Web Site:
http://www.paradiserobotics.com