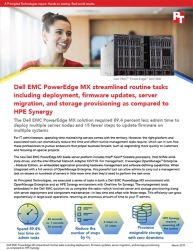 Durham, NC, March 15, 2019 --(
PR.com
)-- All IT server administrators must devote a certain amount of time to routine management tasks such as deploying server nodes and updating firmware. However, a new study from Principled Technologies demonstrates that the time and number of steps such tasks require can vary considerably from one platform to another.
According to the report, "The Dell EMC PowerEdge MX solution allowed us to deploy multiple servers in 89 percent less admin time, update firmware on multiple systems using less than one-third the number of steps, and provision new storage in half as many steps with zero downtime. In addition, the PowerEdge MX solution allowed us to migrate a server profile from a traditional 2U rack server into the PowerEdge MX compute nodes, something that the HPE Synergy solution couldn't do."
When admins can dispatch with routine tasks more quickly, they have more time to innovate and deliver value to the company. To learn how the Dell EMC PowerEdge MX can help companies achieve these benefits, review the comparison report
http://facts.pt/jyiqavn
, summary
http://facts.pt/lce11om
, and infographic
http://facts.pt/9smxbd7
.