Principled Technologies Releases an Interview Report Detailing the Experience of a Real-World User with Nutanix Enterprise Cloud Deployment and Management
Principled Technologies (PT) talked with a senior systems engineer at a major airline to get his perspective on deploying and using Nutanix Enterprise Cloud.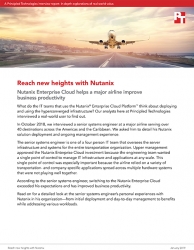 Durham, NC, January 24, 2019 --(
PR.com
)-- To meet growing demands, many IT departments end up implementing a mixture of traditional hardware solutions that can make data center management a nightmare. A detailed new report from Principled Technologies dives into the real-world experience of a major airline that decided to fix this problem by moving to a Nutanix Enterprise Cloud hyperconverged infrastructure. The senior systems engineer PT interviewed claims the move to Nutanix exceeded his expectations and improved business productivity.
According to the senior systems engineer quoted in the report, "We were running out of Band-Aids. Over the years, we'd put together a hodge-podge consisting of an HP blade enclosure, a Cisco Blade Center, NetApp, and Compellent. But it was a management nightmare - they don't play nice together. Getting that down to a single solution was huge."
To learn more about how the Nutanix Enterprise Cloud addressed the airline's data center performance concerns and delivered on the IT team's key must-haves, read the full interview report at
facts.pt/weezqsn
.
Contact
Principled Technologies, Inc.
Jasmine White
919-941-9812
http://www.principledtechnologies.com/

Contact